Social Bookmarking site's potential as a mechanism to build links has been taken advantage of for far too long, there was a time when building links on Free Social Bookmarking sites was seen in a good light, but as Google's search algorithm evolved over the years; so did the practices that will bring the desired results.
It is worth noting what John Mueller had to say about leveraging social bookmarking sites as a means to conduct SEO
"I don't think those pages would have any effect on your ranking because probably we're also ignoring those social bookmark sites, the links from there.That's a really, really old SEO strategy and we have a lot of practice in recognizing those kind of links and just ignoring them."
Links from referring domains undoubtedly remains a critical ranking factor, but as of now it's worth noting from where you are building links, the link value will only be passed if the link is generated at a place that is contextual to your website & domain.
However, generating links isn't the only factor why High DA Social Bookmarking sites are leveraged,  more importantly, these Free Social Bookmarking sites act as a gateway to driving high traffic to your website.
There stand a selected few social bookmarking sites that will help you accomplish this goal effortlessly.
Before we dive into Social Bookmarking in SEO, how it helps, let's first understand what does social bookmarking means anyway.
What is Social Bookmarking?
Social Bookmarking was a way people used to bookmark web pages they liked on the internet so that they can later come to that page & dwell on that again and again. Again this was a time when people weren't app-savvy with apps like Instapaper, Pocket and more. 
We are taking of 2005-08issh. That was the take of end-users as how they made use of social bookmarking sites. As for SEO's they exploited social bookmarking sites purely for building links as they do now. 
Back then in SEO or shall, I say Google SEO, the number of links pointing to your website mattered the most irrespective of context or quality. As a result, there are thousands of Social Bookmarking sites where SEO's build links for their websites.
Top Social Bookmarking Sites for driving high traffic

1. StumbleUpon Mix
2. Scoop.it
3. Reddit
4. Pinterest
I could make an exhaustive list of let's say 50 sites, but let's face it; we all know how futile & cliche that would be. I have picked the best sites that people are actively using to discover interesting content.
Mix is an upgrade to StumbleUpon initially it was StumbleUpon, honestly feel it as a degrade because StumbleUpon was just too good. The interesting functionality with StumbleUpon was that users can just tap stumble and they would be served an interesting web page randomly, one can add their web page there which would be served to users at random.
What's gone is gone, nonetheless; Mix is also great. Owing to the reputation of StumbleUpon Mix enjoys a user base of people who actually come to discover the content and not the SEO's who comes to dump the links.
As soon as a user joins Mix he's supposed to add his interest so that the Mix platform can create a personalized feed for him. What I love about this approach is obviously the personalization factor, it makes you wanna keep going back because now you know for a fact that your feed will contain interesting content.
Next up our list is scoop.it, Scoop.it is not merely a social bookmarking site, more importantly, Scoop.it provides content curation service across websites, blogs, social media, newsletter and more.
As for it's Social Bookmarking functionality, users can add a link to the webpage, add a description and tag to it and at the same time add a social networks to facilitate social sharing. The platform is actively used by users across the world to add their scoop of links they want to add, discover interesting content which can be of use for content curation.
Scoop.it works similar to Twitter, just like users on Twitter can retweet a post; in the same way, users on Scoop.it can scoop.it posts by other people. It will be scooped under your profile thereby giving content more exposure.
Reddit is undoubtedly the best social bookmarking sites right now. When used strategically the incoming traffic can potentially make your website crash. 
Reddit proudly boasts itself as the Internet's front page and rightly so, the site gets 1.01B Monthly visits, started in 2005; the platform is growing with leaps and bounds. Reddit works just like Facebook; except Reddit is much bigger.
Unlike groups, on Reddit users can start their subreddits also called threads; there are potentially subreddits available for any short-tail keyword you search.
For example, r/vegan
According to Statista, there are 1.2 Million subreddits. Every subreddit has it's rules; spams are prevented by the bot moderator. People are known to be super-mean in Reddit. Cliches are faced by severe backlash; so severe that not even aloe vera can heal those burns.
The good news for SEO is that if you use Reddit bookmarking strategically; you will be able to drive enormous traffic. Two types of content that do well on Reddit are; intellectual stuff and controversial news.
This means that if you're a news portal or a business that has unique insights to add; then Reddit is the platform. Simply create your account, join the subreddit, read the rules and share your content.
If you're sharing links; then plant it with subtlety it should not appear in the plain-sight seemingly obvious attempt to fetch clicks. Create text posts that tell a tale only to plant an anchor text link in the end. It has to be so deceptive that you cannot be caught off-guard.
If you want to shamelessly dump links, then use the following subreddits.
Pinterest is yet another gem in the list of Free social bookmarking sites. Pinterest is all about aesthetics, people come here to be astounded by the aesthetics. The vertical image repository platform features some of the most rich pins and allows users to add a link to the image redirecting to a webpage they link to.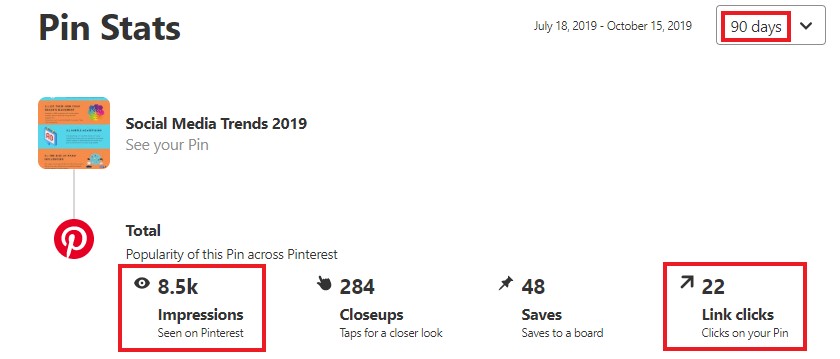 Checkout, the above screenshot, it's an image for one of the articles for Decode Digital Market I had bookmarked, in last 90 days this Pin has gained 8.5K impressions and 22 link clicks. Just imagine if you have 60 more rich pins like these, the results are sure to astound you.
The Pinterest social bookmarking takes place here is that it lets other users to repin your content, that way they can find the pin in their board which also becomes visible to people who follow them. Overall it let's your content gain such huge exposure. 
The KPI of social bookmarking site is and has always been to drive traffic, it bears a little effect on rankings, that little impact is because the webpage you're trying to promote is gaining pageviews which would have been impossible if you seldom relied on search engines. Hypothetically let's say; you managed to drive 250 clicks from Pinterest and a 100 of them stayed for 5 minutes and did 6 sessions; you do understand where I'm getting at; don't you? 
Google is monitoring the visitor behavior on your website because you allowed Google to do so in the first place as you submitted your site to Google via Google Analytics and Google Search Console.
Google ranks those webpage higher with which visitors had a pleasant experience, that pleasant user experience is dwell time.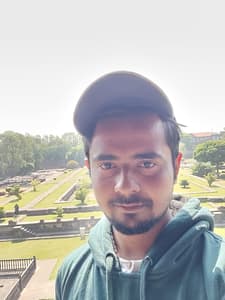 Kunjal Chawhan founder of Decode Digital Market, a Digital Marketer by profession, and a Digital Marketing Niche Blogger by passion, here to share my knowledge