Technological advances and critical conditions created by global pandemic situations have led to an increase in the popularity of virtual conferences or events.
Virtual conferences are not new. But from last year, they are at boom and continuously gaining popularity in organizations.
However, Virtual Conferences face a struggle to keep their audience engaged on screen. For that, virtual conference organizers are required to create content that engrosses your virtual audience and keeps them stuck in their seats.
You need to build a strong content strategy that includes informative, valuable, entertaining, and creative content so that your audience has a fully engrossed session throughout the time they spend in your virtual conference.
If you are the one who is looking for ways to increase audience experience during your virtual conference, then this is your content playlist to use in your virtual event.
6 Amazing Content Ideas For Virtual Conference
1. Utilize More Video Content
Even if the best speakers are holding the conference, it is hard to keep the virtual audience engrossed. People usually get bored if they only see one face or similar kind of image continuously on the screen. You should allow transition in your virtual conference with creative and entertaining content.
Use small video clips in-between the speaker's session or enhance the presentation using transition videos or effects. This helps you entice the virtual audience, keep them engaged, and offer them something new that entertains your audience.
2. Carefully Strategize To Play Audio
Audio is what makes your presentation live, only video cannot do enough. You have to choose a virtual conference software or platform that offers good quality audio functionality.
Your virtual audience gets disengaged or disappointed with virtual conferences if audio is not properly distinct from your audience.
If your virtual audience is not able to clearly hear the speaker, they will disconnect or leave the meeting right away.
Also, several factors affect your virtual conference negatively: quality of the microphone, the speaker you are using, virtual conference platform you are using, connectivity or speed of the network, etc.
Before you start a virtual conference, make sure to run-through with all the speakers, play video, and other audio content like a complete session. Check everything that might affect your virtual conference streaming, most importantly, the quality of audio.
3. Make Presentations With Creative Images, Graphics, & Colors
Presentations and infographics are an important part of virtual conferences. It will increase interaction and create a path that increases communication with your virtual audience.
Heads up! If your presentation is bland, created with simple text or plain background, or poor-quality images, it will lead to a bad impression on your audience.
In order to show interesting content, build communication, and make easily comprehensible content for the audience, you must make use of creativity.
Include graphics, vibrant colors, quality images, and other creative designs to make an attractive presentation. 
4. Use Polls & Questionnaire To Interact With Your Audience
The next big thing to make sure your virtual conference should incorporate is the interactive session. It depends on the size of your audience, if it is small then you need a different strategy to build an interactive session, like talking or asking opinions directly. Whereas, if you have a large audience, you can conduct polls or create interesting questionnaires to ask for the input of your virtual audience.
Many virtual platforms or software offer features like polls, chat boxes, etc. to allow virtual event organizers to create interactive sessions with their audience.
Also, make sure that the host or speaker should have access to the poll or questionnaire backend so that they keep an eye on the answers or responses coming from the audience and address them in real-time.
5. Increase Social Engagement With Social Media Walls
Integration of social media walls into events and conferences is becoming increasingly popular in the industry. In offline events, many brands or organizers are using social media walls on their event screens.
With the virtue of technology, virtual event platforms or software upgraded functionality that helps in easy integration of social media walls.
Whenever you are taking a break or in the background or use a ticker running at the bottom of the screen, social media walls will enhance your virtual conference with an upgrade in your audience experience.  
Wrapping It Up!
Virtual Conferences are continuously becoming more popular among industry and organizations day by day. Like offline events require robust plans and efforts to make the event successful, similar virtual events, whether conferences, seminars, job fairs, etc., require a rigorous strategy that includes audience engagement and experience at topmost priority.
You can use several other ways too to make your virtual conference effective. However, the above-mentioned content ideas are the most important and compelling to include in your strategies. You should consider these content ideas every time while going to host a virtual conference.
Organizing a virtual conference might seem difficult, but if you follow the right strategy, then you are on your way to make your virtual conference successful.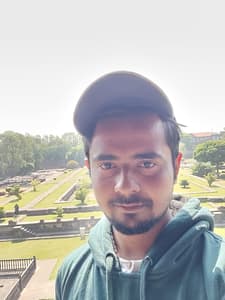 Kunjal Chawhan founder of Decode Digital Market, a Digital Marketer by profession, and a Digital Marketing Niche Blogger by passion, here to share my knowledge