Here is the most comprehensive Hexowatch Review on the internet. Learn every single feature this Competitor Web Monitoring Tool has to offer.
Do you ever wonder how cool it would be if you can keep tabs on your competitor's website and monitor every change that they make and get notified about the changes conveniently?
That too without having to visit their website 
The tool that I am gonna walk you through is Hexowatch and it is disruptive guys; I have never anything like this before. The amount of work that this will do for you is overwhelming!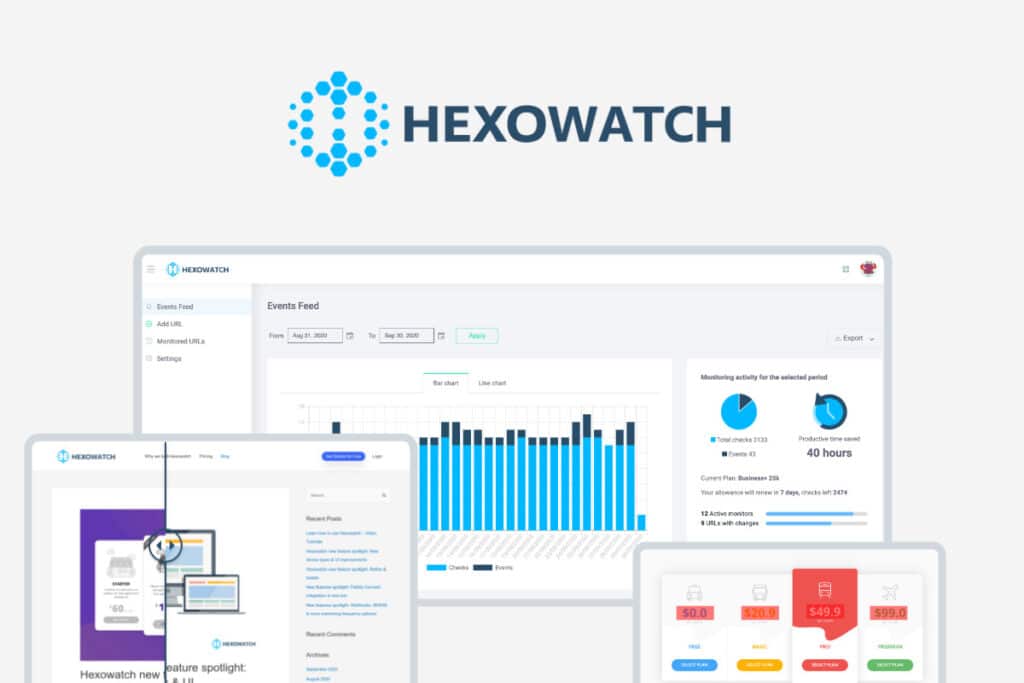 In this Hexowatch Review, you will learn that it isn't just some other third-party tool that predicts data that provides you a hunch. This is much more than that. (The data is 100% ACCURATE)
Sit tight, because this one is gonna be a very thorough AI Tool Review that will entirely explain what this all-rounder is capable of.
This is one tool every digital business small or large needs in their arsenal to create decisions backed by data and save a ton of time in the process.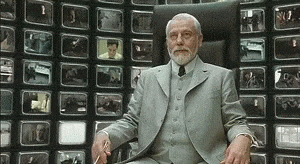 Hexowatch is an AI 'change detection' tool you can also think of it as a website monitoring tool that will act as a credible ally to monitor visual, source code, technology, availability, and price changes across any website or platform.
Instead of having to log in to the website again and again or jumping from one website to another to manually monitor the changes; here you have a tool that will do the heavy-lifting of looking for changes across sites.
At the same time, it will literally notify you of changes via notifications on your preferred devices including email, Slack, Google Sheets, Telegram, Webhooks and if that's enough then get this, there are 2,000 Zapier apps integrations.
Turn third-party web pages into your private data source with this tool (more on that later)
Who should use Hexowatch?
It's worth knowing who this tool is meant to be used by before you invest in this.
Where should I even begin? To understand this let me ask you a few questions
I could go on, but these are primary questions and if your answer to these questions is yes, then you definitely need this tool
A Digital Marketing Agency or an SEO Agency needs this tool so they can monitor changes their clients competitors have made on every level.
E-Commerce or Dropshipping store owners need this tool so that they can monitor their supplier website to monitor price changes and stock availability.
A domain reseller needs this tool so that he can buy domain when it expires before the owner even gets the chance to renew.
By now you might have gotten a gist as to what this is capable of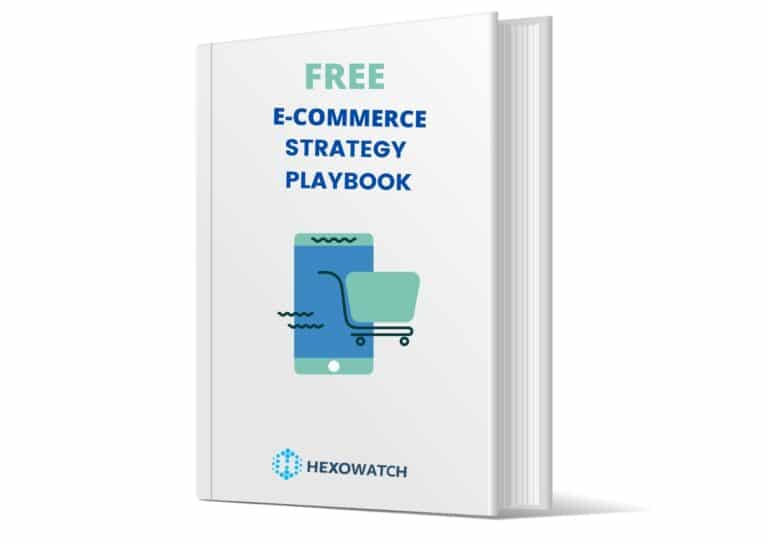 What are the features in Hexowatch?
This is gonna be fun, the sheer amount of features that this amazing change detection tool has got might make you want to jump from your seat.
Here it is
Like I said before, this is an all-rounder tool that has to be in a Digital Market's arsenal. It will monitor your competitor's website smartly and sneak you the information you need swiftly.
Now let's go through each feature one by one to understand it deeply. Keep reading this section carefully because along with features you will also get to learn some cool use cases. 
1. Automatic A.I Monitoring
This is a holistic feature of this tool, leveraging the Artificial Intelligence technology the Automatic A.I Monitoring will look for any kind of changes on the tracked URL it can be visual, content, HTML & Technology monitoring.
If you take their Business + Plans then this let's you check a page from different geographical location as if you were in the US, Europe or Asia.
This is a pretty amazing feature to track huge competitor sites.
In that case, you would identify some benchmarks and competitors and keep tabs on every minute change they make so as to incorporate that in your design rather than having to listen to their success months later in some business event or a case study. Act before it's too late.
Another amazing feature is visual monitoring, a lot of businesses don't realize this but they are in dire need of this amazing functionality.
Essentially the visual monitoring functionality would allow you to monitor a specific visual section of a page for any changes as and when they take place.
So it could be a product landing page whose price changes you may wanna monitor every step of the way. You would literally be alerted on email as soon as the change takes place an amazing feature ecompreneurs.
SaaS marketers can also leverage this functionality by monitoring competitors by keeping tabs on new features that their competitors are adding or testing on the site. So for example, SEMrush can add visual monitoring on Ahref's Homepage CTA area to see if they are showcasing new features along with CTA that now they can factor in or improvise upon.
Use Case & example
In this use case, I tried visual monitoring on the Aliexpress homepage Consumer Electronics section to detect changes in the products shown. 
And within a day I was notified of the change. See here, in the first slide you can see a straight line in the middle of picture; as you drag that line you see the change in the visuals as I managed to see the changed products.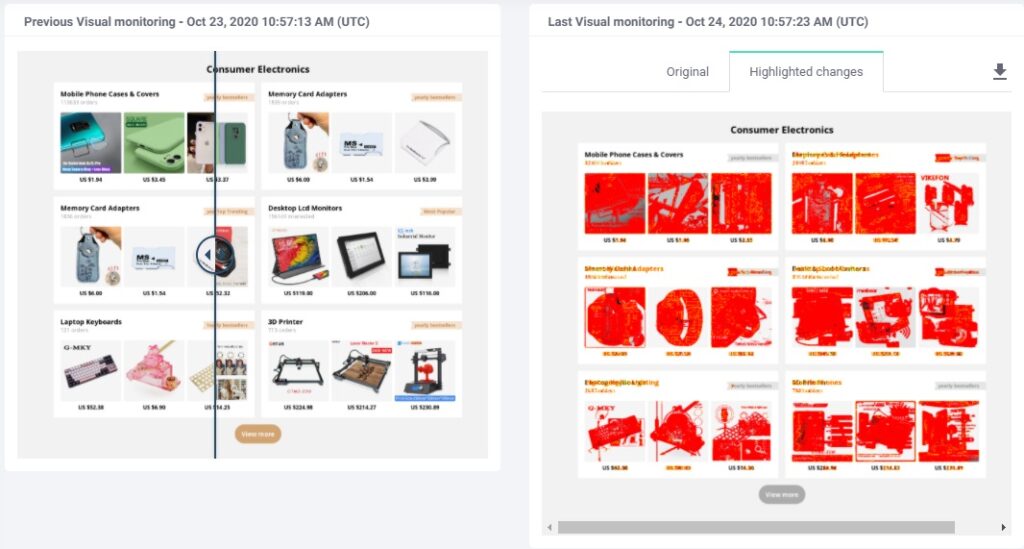 3. HTML Element Monitoring
The HTML Element Monitoring lets you keep tabs on specific fields on a page, for example prices or availability. You can also perform custom actions before capturing the data including
clicking, logging into a page, filling out forms, setting a delay, setting cookies, refreshing the page or more.
Use Case & Examples
In this use case, I am monitoring Envato Theme purchase page and monitoring the [Add to cart] button clicks by setting clicks as an action and I have set to be alerted for a change in every 15 minutes.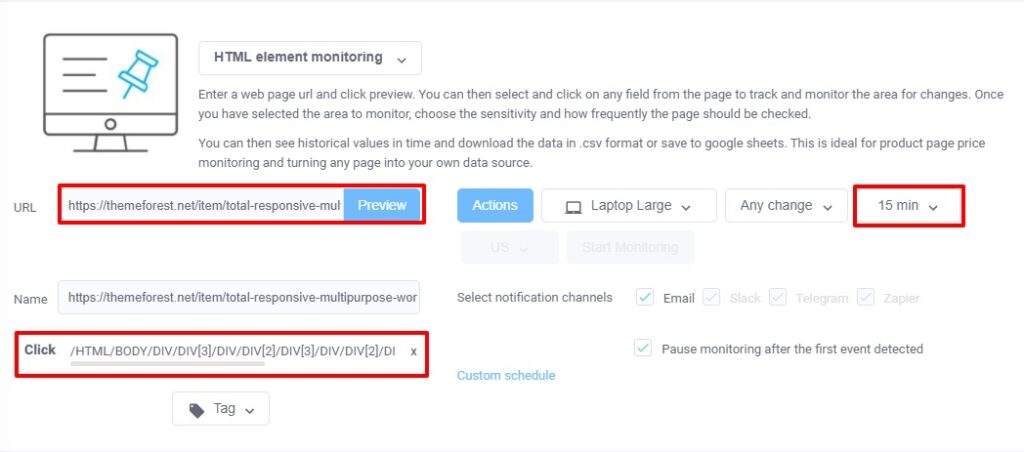 This is again a deeper level monitoring that you wanna do and can save an enormous amount of time provided if you were doing this manually earlier.
This will come in handy not just to monitor changes on a competitor's website but perhaps also on your own website.
HTML Monitoring is different from HTML Element monitoring, in HTML Monitoring you can monitor the changes in the source code of the website you can even set the frequency at which you would prefer to be notified.
So hacks and phishing attacks are quite common; huge sites doing good business are the common victims. Using HTML Monitoring you will be notified if there are any changes in source code and this could be unauthorized changes as well. Quite handy won't you agree, you will be notified quickly before the damage takes over and you find yourself in huge trouble.
Use Cases & Examples
We can essentially monitor the changes in the code that are essential to monitor. So SEOs who have built their links on a certain page can track the code of backlink with nofollow provided they acquired a dofollow that way they will be notified if the link attribute has been changed from dofollow to nofollow.
This feature is self-explanatory isn't it? 
You can monitor a certain keyword on the page for which you would like to be alerted for.
You add the page URL, the tool will itself enlist the keywords that are found on the page you can choose one of those and if the keyword that you want to monitor isn't there then you can manually put your keyword there and monitor its presence. The moment that keyword is discovered you will receive an alert.
This is handy for a lot of businesses, Dropshippers who want to bulk order a certain commodity from a supplier website but the product is out of stock can add that URL and set the "in stock" keyword in monitoring and thus they will be alerted as soon as the "in stock" keyword is found that way you will one of the first ones to bulk order it.
People who are promoting their products via affiliate marketers can add their review article URLs to monitor and track keywords like "poor service" or such negative keywords for damage control for the brand. 
Use cases & Example
In this use case, I am tracking an e-commerce page from Aliexpress and I have added the keyword [-80%] to monitor because as of now the highest running discount is -60% I would like to be notified when there is -80%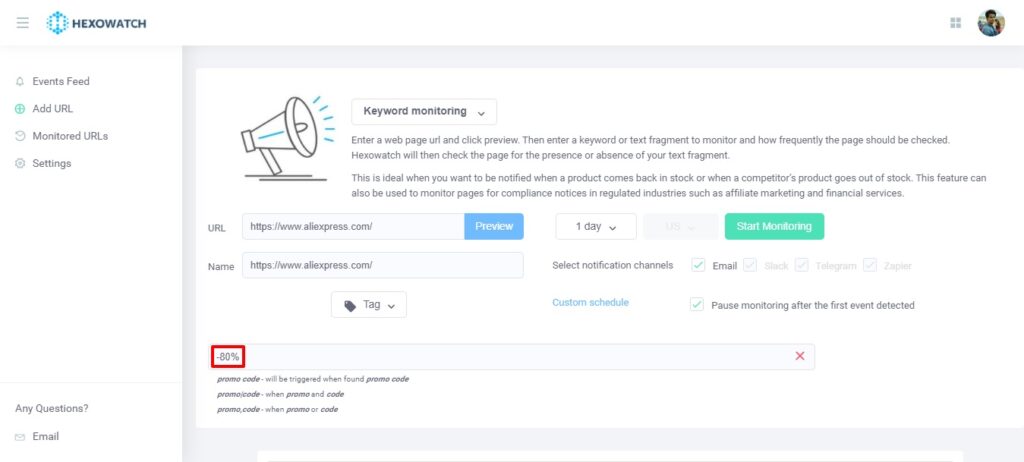 With technology monitoring, you can track technological changes like if a tracking script was mistakenly removed, or if the tracking script is modified either on your own website or a competitor's website.
Some of the technologies that they let you monitor are the ones that you are obviously the ones that you are using already, but here they are anyway
This might seem similar to keyword monitoring or visual monitoring but this functionality has some more things to offer.
With content monitoring, you monitor specific paragraphs, headlines, and sections to monitor for certain lines of text, and when you don't specify it automatically detects new changes and notifies you of the same.
Again this functionality is useful for various businesses like potential clients for Requests for Proposals RFP's, monitoring shipping companies for disruptions, distributors, and suppliers for any updates as well as monitoring companies for new vacancies.
8. Availability Monitoring
This feature can save your unexpected, unintended losses that you would incur at the cost of server-level issues.
It is possible that the client for whom you are running e-commerce ads is using a host that might cause 5xx errors on the landing page or maybe it's the CMS that is doing that; whatever maybe the cause. Using this amazing functionality you can track these URLs to monitor the status response code and be notified if a certain landing shows up status code any other than 200.
I mean it's certainly relatable, I have often discovered this phenomenon that as I click the ad it redirects me to a page that would be broken.
That means I won't end up purchasing and the advertiser just paid for a click that didn't even convert; imagine running ads for hours only to realize several hours later that the page is broken.
Such mishaps can be prevented with availability monitoring.
9. Domain WHOIS Monitoring
This is a new functionality that Hexowatch has added. A very useful functionality indeed.
With Domain WHOIS Monitoring you can monitor several domains for when they get expired and available for you to purchase. For example, your business or your client's business can be eyeing a domain to purchase that isn't available momentarily you can add such domains to monitoring and be notified as soon as it's available.
At the same time, you can add your own domain to monitor and be alerted if any unauthorized change is made to your WHOIS records.
Hexowatch is priced quite optimally
Their standard plan is quite affordable at $14.99/mo.
The standard plan is suitable for tiny startups as per your need and bandwidth you will need to select the plan.
So that was the Hexowatch review guys!
I tried figuring out what it's probably shortcomings be, but I really was unable to. The tool works just fine and saves a ton of time otherwise wasted stalking competitors.
Let me know in the comments if you have used this tool and if you have encountered any problems.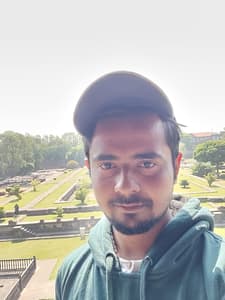 Kunjal Chawhan founder of Decode Digital Market, a Digital Marketer by profession, and a Digital Marketing Niche Blogger by passion, here to share my knowledge