WordPress is the leading Content Management System (CMS) in the world today.
More than 37.1% of the total websites are hosted on WordPress. When you have a blog on WordPress, you would want to concentrate more on writing the blog then to manage it. There are hundreds of companies that will host the managed WordPress blog for you. In this article, we will discuss the 10 fastest yet affordable WordPress Hosts for Bloggers 2020.
Hostinger is a European web hosting company that was founded in the year 2004. Currently, in India, this is the best WordPress Hosting you can buy if your budget is tight because they are running a massive 70% OFF discount.
Hostinger is affordable and a fast host for WordPress users. It has servers in the US, Asia & Europe. Based on your website target location you will choose the server location and get the speed.
Hostinger guarantees 99.5% Uptime and I have tested it to know for sure that their claim indeed holds true.
Hostinger India has received a good rating of 4.5 out of 5 from 322 reviews.
Right now is the best time to buy hosting from Hostinger because of the sale additionally they are also running sale on domain purchase wherein you can buy .xyz & .tech for just Rs51 + gst
FastComet is one of the fastest and most affordable hosting platforms for WordPress users. With 200 Global CDN Anycast Network access points and 11 Enterprise-class datacenters, FastComet is one of the best hosting platforms in the world.
FastComet has datacenters in the USA, Europe, India, Singapore, Japan, and Australia. This ensures the faster transfer of data.  Based on the reviews of 48,503 authentic users of 4041 different hosting services, FastComet received a rating of 9.7 out of 10 in Reliability ratings. It also scored 9.6/10 as far as Pricing is concerned.
FastComet has earned many badges for its stellar performance including Best Customer Service, Excellent Service, Users' Top Choice, and Best Shared Host in 2019 by Host Advice.
The plans of FastComet start from as low as just $2.95 a month which is a very affordable sum for such a high performing platform. It also offers you 45 days money-back guarantee so that you can be sure of your choice.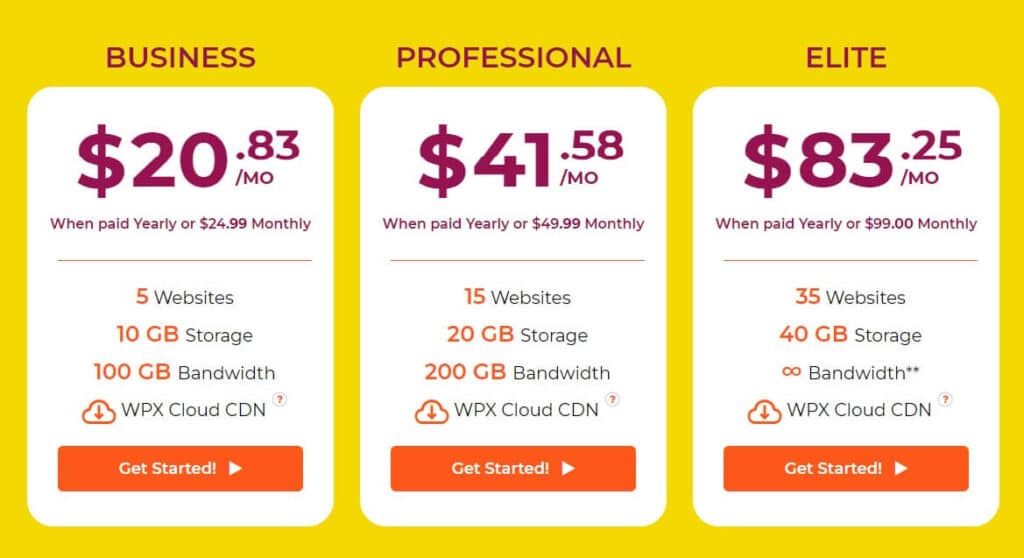 WPX Hosting is also one of the best platforms to host your WordPress site. High-end hardware and software have led WPX Hosting to become the fastest WordPress Hosting for the years 2018 and 2019.
Out of the 694 Reviews, WPX Hosting has received 97% Excellent Ratings by its users. The "Fixed for you Fast and Free" guarantee of WPX Hosting is for fixing websites hosted on WPX that goes offline for some unfortunate reason.
They assure you to fix the issue fast and without any additional charges.
WPX Hosting is one of the most straight forward platforms in the world.
They do not have any hidden charges or they do not try to oversell their services. WPX Hosting was declared the Most Trusted Web Host on TrustPilot.com.
Additionally, ReviewSignal.com declared WPX "Top Tier" Host among all the entered categories in Independent tests in 2019 and 2020. It has also been declared Fastest Host in 2019 and 2020 by Matthew Woodward in his independent review.
The plan for WPX Hosting starts at $20.83 per month. They do not have any extra charges nor do they increase their charges after the first year of renting. WPX Hosting offers 30 days money-back guarantee to all its users.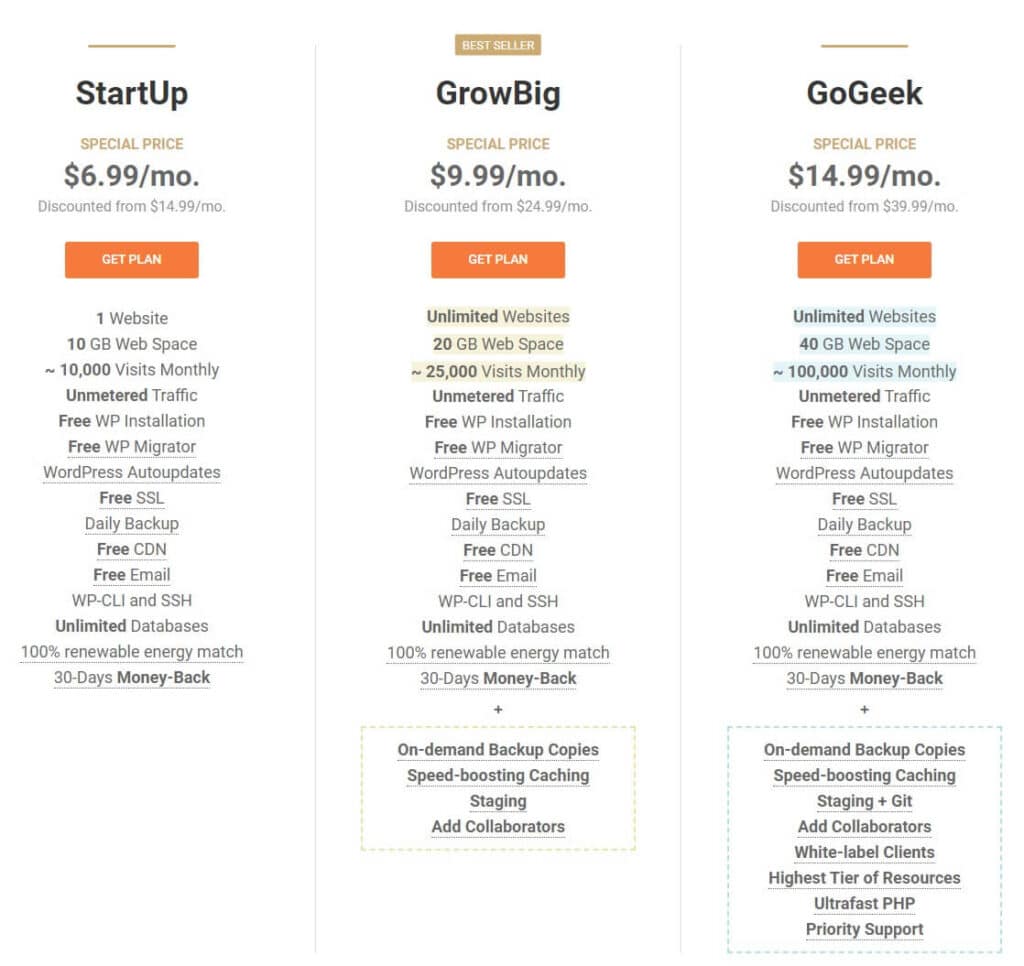 SiteGround is known for its excellent support and for step-by-step tutorials.
SiteGround is recommended by WordPress on its official site. SiteGround gives you the benefit of Distributed Storage running on SSD disks for optimal speed and a high-level redundancy.
The Google Cloud platform is one of the most trusted platforms and SiteGround is powered by it for higher performance.
SiteGround takes the security of your data very seriously. They have customized AI Software which averts over 5 million brute-force attacks every day.
They were the pioneers in secure account isolation and using Linux containers.
They have employed a dedicated team of security experts that is responsible for patching and enhancing any glitches in the software on server and website levels.
They have a Web Application Firewall which is customized and updated regularly with additional rules to prevent possible attacks.
They have automatic WordPress updates done on auto-pilot. They also allow static caching on your website which you can turn on or off or add more layers to get the best performance.
The pricing of SiteGround plans starts from $3.95 per month. They also guarantee your money back within 30 days if you are not satisfied.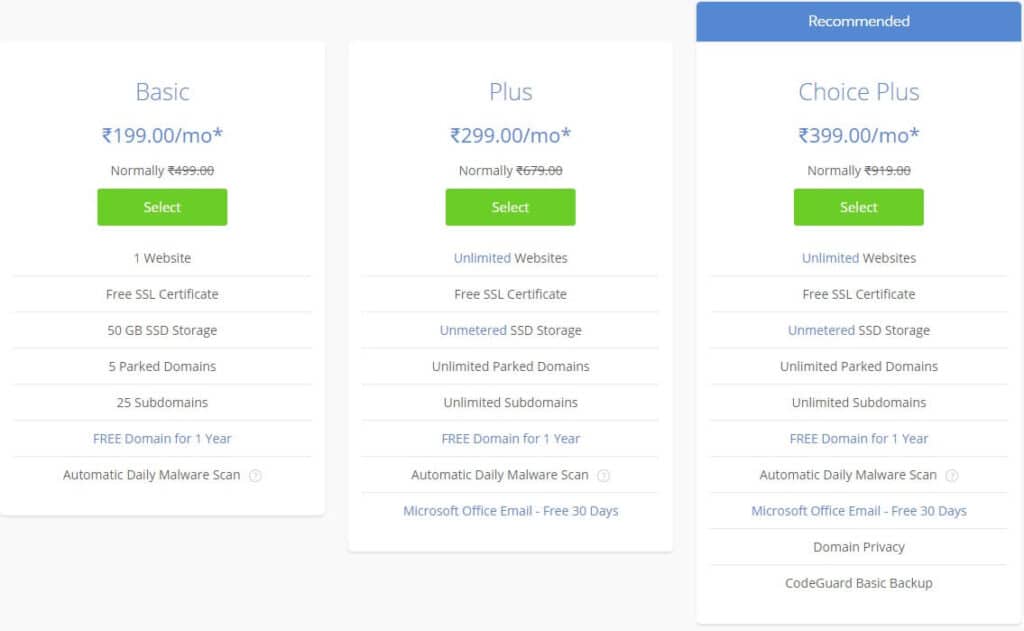 Bluehost is one more platform recommended by WordPress for its performance since 2005.
With servers in the USA and India, Bluehost can provide lightning speed to its websites. One-click WordPress installation helps you to install WordPress without any hassles.
Bluehost grants you access to marketing services, tools, and paid ad credits so that you can reach your potential outreach.
It also offers you WP Pro that will give your WordPress hosting extra power with detailed website analytics, marketing tools, security, and data backups all in one place. SEO, email marketing, and social media tools are included in this version.
Unlike many other platforms, Bluehost provides free Domain for a period of 1 year and Microsoft 365 branded with your domain name.
They also provide hundreds of premium themes for free. Unlimited disk space is also included in the plans for no extra charge.
The pricing of the Bluehost plans, start from $2.95 per month for the first year. They offers to pay your money back within 30 days if you are not satisfied with their service.
Kinsta is a hosting platform for enterprise-level hosting. If you have high traffic on your website or blog then Kinsta is a perfect choice for you. MyKinsta is the dashboard provided to Kinsta users. It is one single place from where you can manage your all websites, track bandwidth, visitor stats, and all the other tools you need for the management of all your websites.
Analytics are important for your growth in the market and Kinsta provides a wide range of analytics from website performance to architectural performance and everything on your MyKinsta dashboard.
As Kinsta is more useful for users with multiple websites, it gives various facilities to be a more powerful platform. It allows you to give rights to many users on your websites. You can also give partial access to the additional users like some can manage billings, or add them as developers or administrators to all or some of your websites.
Famous companies like intuit, Ubisoft, Buffer, Drift, GE Electricals, Tripadvisor, etc. host their websites on Kinsta.
The plans on Kinsta can be easily upgraded or downgraded as there are no fixed-term contracts. You can host on Kinsta for as low as $30 per month. You will also get a discount of 2 months if you pay for a year. It also offers 30 days money-back guarantee and pro-rated refunds.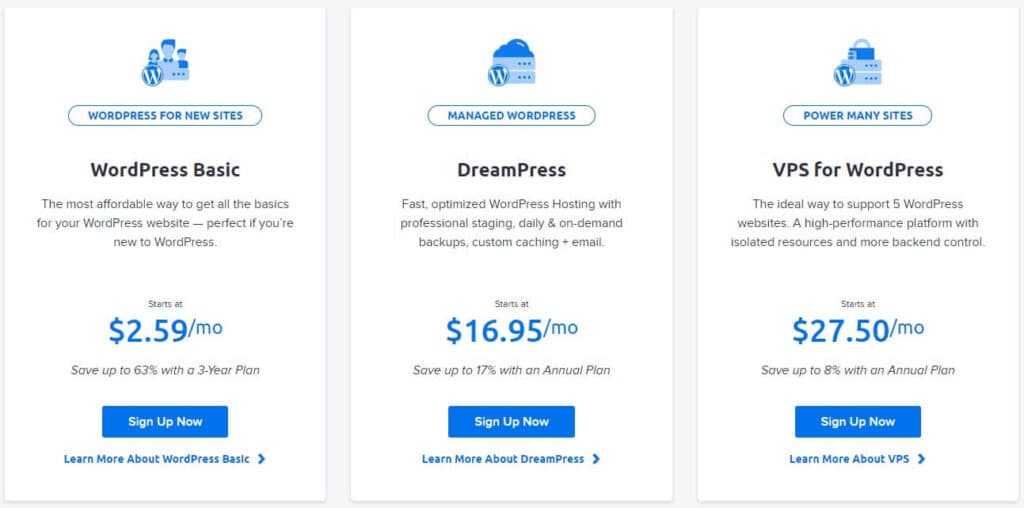 DreamHost is a platform that is known for its wholesome packages. It ensures that your website is fast, secure, and always online. Dreamhost provides many services including WordPress Hosting, Website Hosting, VPS Hosting, WP Website Builder, Dedicated Hosting, and Cloud Hosting. It also sells Domain name for your use.
Dreamhost is one of the oldest companies actively working for 20 years. The services are apt for designers, developers, bloggers, and online businessmen alike. Dreamhost has a passion for the right to privacy for everyone. It backs a strong anti-spam policy and offers free WHOIS privacy to its users.
Security is one of the best advantages of Dreamhost. They provide Multi-factor Authentication, auto-enabled sFTP, and free secure hosting with Let's Encrypt. Being owned by its employees, it is closer to the needs of the clients and this is a great help to fulfill their needs.
With a guaranteed uptime of 100%, Dreamhost is really unique. You can rent a plan from Dreamhost for as little as $2.59 a month.
WPEngine is known for its high-quality WordPress Hosting. It is ideal for B2B websites where high performance is mandatory. WPEngine has more than 120,000 clients in 140 countries. It is not just a WordPress Platform but is more of a WordPress experience.
The four pillars on the basis of the design of WPEngine are agility, performance, intelligence, and integration. These all pillars work together to give the users simple site setups, easy workflows, stress less launches, and effortless management.
WPEngine provides the Genesis theme framework, dev/stage/prod environments, Git and SFTP connections, automated backups, and WordPress core updates to the developers to help them build better websites. It has partnered with Cloudflare, Evercache, Google, Amazon, New Relic, and Big Commerce to boost its performance.
WPEngine also has High availability, multi datacentre clustered environments for ensuring high-speed, scalability, and durability.
The plans start at $25 per month.
Cloudways offer you the choice and flexibility to digital agencies and eCommerce businesses about how their websites are hosted. Cloudways manages your WordPress site in a holistic way.
Cloudways offer the choice from 5 cloud providers, unlimited applications, and any version of PHP you choose. You can go live with Cloudways by setting up your websites in minutes.
The technologies to managed WordPress and WooCommerce websites on Cloudways include advanced caches coupled with Breeze, a simplified Cloudways cache, and CloudwaysCDN for a seamless performance.
Other services provided by Cloudways include eCommerce hosting, Drupal Hosting, Magento Hosting, PHP Hosting, Laravel Hosting, Joomla Hosting, and many more.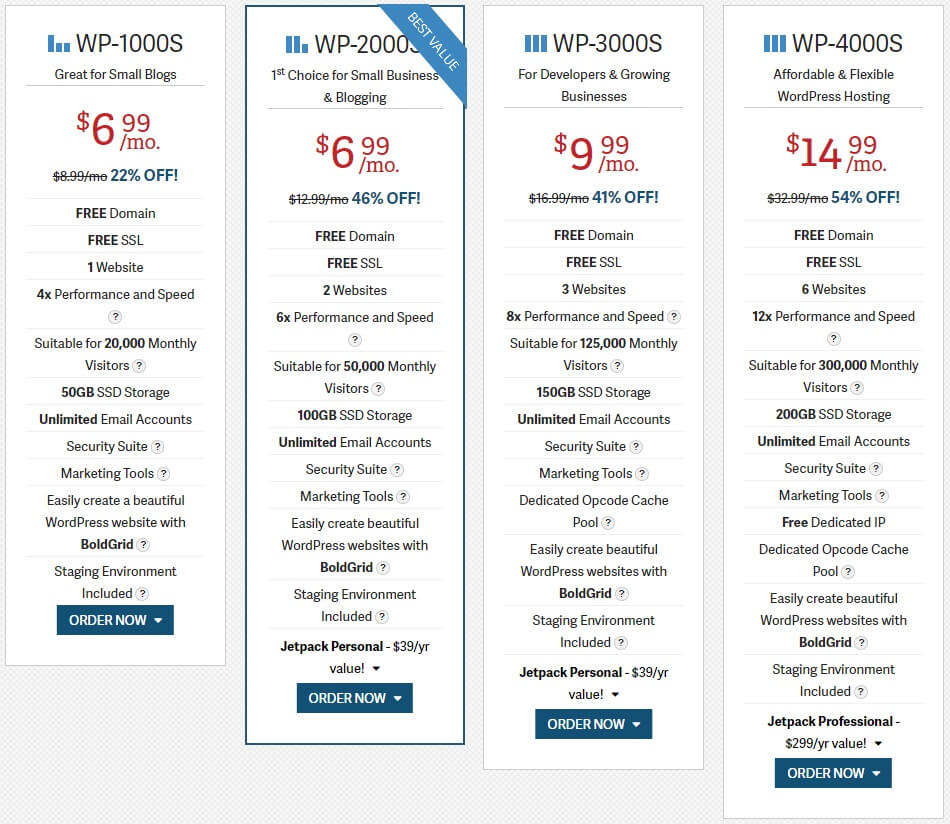 InMotion Hosting was founded in 2001 and since that time it has been providing services to internet users.
It offers services like WordPress Hosting, Dedicated Hosting, VPS Hosting, and Shared Hosting.
It provides QuickStarter one page websites in 2 Days for $99. These websites are unique and built by experts.
It includes a custom business email address and it works on desktop, tablet, and mobile.
InMotion Hosting regularly sponsors open source programs such as WordPress, Joomla, b2evolution, and PrestaShop to assist developer and software community.
InMotion is a top-rated web hosting company for 17 years on CNET. It also has an A+ rating by the Better Business Bureau, a consumer protection agency that reviews the integrity and performance of businesses in the US and Canada.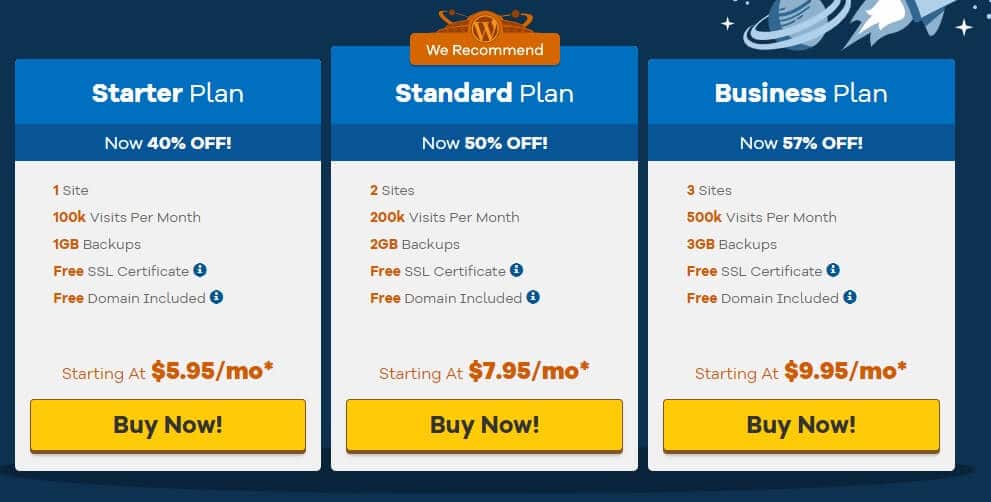 HostGator offers all types of hosting like domain names, VPS, and dedicated servers along with WordPress Hosting. It also offers a special Gator website builder to assist you in creating websites easily and in no-time. The leading features of HostGator include unmetered disk space, Email, and bandwidth. It also gives free advertising credits and WordPress tools to all its users.
The Conclusion of the best WordPress Hosting Services
I could have added some more WordPress Hostings to the list, but these are the hosting that has been well received by bloggers all around.
If I have to pick the top 2 WordPress Hosts that too for India then they are
Hostinger & Siteground have been around for a long and they have delivered an amazing user experience there support is also top notch.
If you're just starting out and the budget is tight then definitely go with Hostinger.
Recommended: HostFizia Review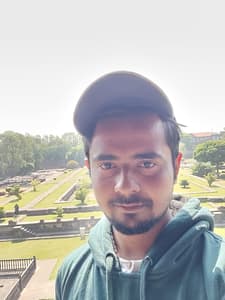 Kunjal Chawhan founder of Decode Digital Market, a Digital Marketer by profession, and a Digital Marketing Niche Blogger by passion, here to share my knowledge