There are two ways to rank content on Google's first page search result, one, you don't know how you just do somehow, second you know exactly what it takes to rank on page 1 of Google search result, knowing what it takes provides you with a dynamic template which you can now replicate again and again to gain those rankings making you basically a Pro at Search Engine Optimization.
What is Keyword Difficulty?
Keyword difficulty (also called SEO difficulty) means how difficult it is to rank a keyword on search engines like Google organically for FREE. The less the difficulty; the more chances you have of ranking sooner with fewer efforts. 
That right there is why keyword research matters so much.
A blog published without any keyword research can potentially lose 60% of traffic that could have resulted because of keyword research.
Keyword Research is a very broad concept it isn't merely restricted to finding your focus keyphrase and a bunch of short tail keywords that are already having volumes.
There are several types of keywords that your keyword research has to answer
Short Tail Keywords

Long Tail Keywords

LSI Keywords

Focus Keyphrase

Power Words

Stop Words
Your keyword research for the blog needs to incorporate all these kinds of keywords in the content. 
The focus needs to be shifted towards focus keyphrase which will essentially be the topic of your content, then you need to find related keyphrases and lastly you need short tail keywords that are already being searched.
That's what the anatomy of a perfect blog post looks like.
To find low difficulty keywords you need "Keyword Research Tools" you cannot simply go by a hunch, you'll need to be an insane data scientist to attain that state.
Types of Keyword Difficulty
Essentially there are 3 types of difficulty
Low Difficulty Keywords

Medium Difficulty Keywords

High Difficulty Keywords
1. Low Keyword Difficulty
Low difficulty keywords are pretty self-explanatory, these keywords are very easy to rank for, a newbie content website should ideally hunt for these keywords.
Before we dig any deeper, low SEO difficulty keywords and medium SEO difficulty keywords are obviously long-tail keywords (keywords comprising of more than 3 keywords).
A newbie content blog that has a very negligible domain authority/ domain score/ domain rating can potentially rank for low keyword keywords.
Why? Simply because these are low-hanging fruits, bigger sites aren't exclusively creating content for these keywords. Usually, you will find Micro Niche sites exclusively built around the topic that manages to easily rank for these low difficulty keywords that have high search volume.
For example: Let's say your blogging niche is a topic having a futuristic scope and it entails blog post ideas consisting of a bunch of long-tail keywords having high search volume and keyword difficulty lower than 70%.
Now that's the kind of blogging niche I'm talking about. Your blog domain contains the very name using which you can leverage domain relevance plus your content is gonna be super relevant to that. 
For instance: You may have come across micro niche sites like www.rogerskateboards.com the entire site is built around the micro-niche, i.e skateboards, skates, or any kind of micro-mobility vehicle. The money is in Micro Niches, single niches are becoming a thing of yesterday.
2. Medium Keyword Difficulty
Medium difficulty keywords are somewhat difficult to rank for as compared to low keyword difficulty keywords. Think of this as those fruits for which you may probably have to jump to grab them. 
An example of a medium SEO difficulty keyword is a single niche site. For example, SocialMediaExaminer.com is a single niche site, the content blog isn't entirely about Digital Marketing, at the same time it isn't exclusively about Facebook Marketing; it is all about social media marketing.
Facebook Marketing qualifies as a Micro Niche, Digital Marketing and Social Media Marketing on the other hand qualifies as a single niche site.
www.jonloomer.com pretty much qualifies as a Facebook Marketing Micro-Niche site because nearly 90% of content there is all about Facebook.
3. High Difficulty Keywords
Lastly, High SEO Difficulty Keywords these keywords are ridiculously difficult to rank for. Very competitive players operate in this niche. 
It contains niches like health & technology, I mean health and technology overall we are not picking up micro technology niche or micro health niche.
In health niche sites that stand a chance to rank include sites like Mayoclinic, Stanford Healthcare, Medical News Today.
In Technology niche sites that stand a chance to rank include sites like TheVerge, DigitalTrends, TechRadar, Mashable.
The above-mentioned sites in both the niches drive traffic in millions every single month
List of Best Keyword Research Tools for finding Low Competition Keywords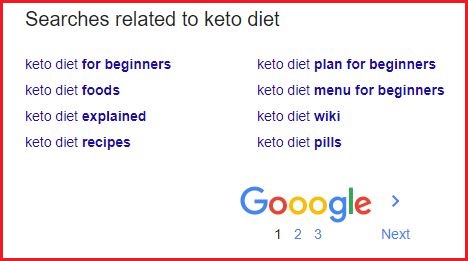 It takes no second guessing that Google has an immense amount of keyword searches data on the internet. Because there are more than 3 Billion Google users worldwide followed by Bing and Yahoo.
Google related searches is the evergreen Google keyword tool to find low competition keyword, plus it's free. The way it works it super-obvious, it's an information that Google makes explicitly visible for SEOs. Google wants you to know what related keywords your audience is searching for.
Related searches reveals long tail & LSI keywords that users use to find specific results instead of broad results. If you put the keywords found in Google related searches section into an SEO keyword tool like Ubersuggest, KWFinder or any SEO keyword tool for that matter you will find that Keyword SEO difficulty will be distinctly low than that by a short tail keyword.
To elucidate, let's suppose you search "Keto Diet" which is a short tail keyword since it consists of less than 4 keywords; at the bottom of the page you will find related searches like "Keto diet for beginners" and "Keto diet menu for beginners". Just remember these are more than 3 words which makes it a long tail keyword. 
Now if we check SEO difficulty for "keto diet menu for beginners" using Ubersuggest it shows keyword SEO difficulty for that keyword to be 42 which is still high but conversely the keyword difficulty for short tail keyword i.e "keto diet" amounts to 66. Afterall the keyword "keto diet" has 1.8m search volume.
It's appalling to see people not utilize the opportunity that Google grants, it is being literally served. As soon as you perform a search query there's a section called "People May Also Ask" this section essentially features questions that are long-tail in nature and if you tap on these question it reveals the answer answered by a specific website.
Going back to our example, i.e "keto diet" People May Also Ask section enlists questions like 

These are some really great example of long-tail keywords that has remarkable low difficulty.
"What can you eat on a keto diet?" has 18,100 search volume and keyword difficulty of just 23. Not that's the sweet spot you want to hit. For a brand, new keto blog having very low authority should utilize keywords that have decent search volume and low difficulty keywords.
Just imagine if you build an article around this topic where the very title of the blog post is "What do you eat on a Keto diet?" that's a surefire way to rank in no time (I mean in some time of course)
Next up our list is this fascinating free SEO keyword tool by Neil Patel. Ubersuggest, what is it?
Started as a keyword research tool, the tool now performs site audits, checks for backlinks it even has its crawler.
Ubersuggest is the only free keyword analysis tool available that helps you find long tail keywords and keywords with low SEO difficulty. It even reveals content ranking in SERPs for the keywords you were looking for with metric of the results; metrics like domain score, number of backlinks built for that webpage and the amount of social shares garnered.
The metrics helps you do homework regarding all the efforts you are gonna have to take in order to claim the rankings.
Step-by-step guide to find low competition keywords using UberSuggest
1. Search the main keyword for which you need ideas on UberSuggest search bar
2. In the results you will find keywords with metric like search volume, seo difficulty, paid difficulty and PPC. What matters for you here is search volume and SEO difficulty.
3. Filter out the results to find what you want quickly, just go to filter and in SEO difficulty set minimum 50 and maximum to 35 and hit apply.
4. Go through the results to find your low hanging fruits.

Ubersuggest isn't restricted to just finding keywords, using this keyword analysis tool you can actually find competitor keywords. Just search for your competitor domain and hit search.
The Free keyword research tool will represent all the keywords for which the domain is ranking in top. In the top pages section. You can easily utilize this feature to find top-ranking pages of a competitor domain whose domain authority is low to find for which keyword he is ranking in top positions.
SEMrush is easily the best SEO Tool out there, as a matter of fact they received an award for best SEO Tool this year. The data that SEMrush extrapolates is nearly accurate. Being a content blogger I am in love with it's keyword magic tool.
It reveals data segregated by metric like search volume, keyword difficulty, CPC, competition, SERP features and SERP.
You can simply search a keyword to find the broad match variations of the keyword for which you can find out difficulty and search volume the only metrics that matter.
Here again using filter option you can filter out results to find exactly what you were looking for. What makes SEMrush's keyword magic tool so good is that you can find near about accurate data on keywords metrics according to the countries you choose. 
The fact that SEMrush's crawler is so great and active is the key factor for the awesomeness of the tool & why we love this SEO tool so much.
Another great keyword research tool on our list is the one by Mangotools called "KWFinder" I absolutely love this tool. I just can't get over its modern UI & UX.
This tool also works similar to SEMrush and other tools mentioned up there for finding keywords with low difficulty, medium keyword difficulty, and high difficulty.
What I love about KWFinder is the fact that it explicitly states out the difficulty of the keyword in a straight-forward fashion. Like you don't have to predict if 62/100 is difficult; once you tap on that keyword it will say "HARD"
It states out the following words that suggest the difficulty.
What's more interesting about KWFinder is that it also represents a graph that shows the trend of monthly searches where you can see if the following keyword's monthly searches are growing, declining, fluctuating or are remaining stagnant more or less.
Because from a longevity standpoint you wouldn't want to create content on a topic whose monthly average searches are falling down.
KWFinder tool has two more keyword research features that simply don't make you wanna go anywhere else.
You can extract Google Autocomplete keywords and you can also fetch questions from Google search.

Wanna know the best part?
You can sign up for 10-Day Free Trial that too without credit card information.
So there it is, 5 amazing tools to find low competition keywords to rank your content on page #1 of Google search results. Do you know any other tool to find long tail low SEO difficulty keywords? let us know in the comments.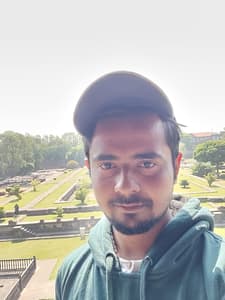 Kunjal Chawhan founder of Decode Digital Market, a Digital Marketer by profession, and a Digital Marketing Niche Blogger by passion, here to share my knowledge