The key to succeeding quickly with content blogging is determining a niche that does not have a barrier to entry.
Don't get me wrong, I know that you can start blogging on any niche that you want, hands down.
It's a matter of determining whether it's worth entering that niche or is too competitive to enter that niche.
For example, in 2020 very few people would dare enter the medical or health niche. I mean the health niche is very profitable.
But, E-A-T and updates by Google killed this niche for people who aren't doctors but were giving advice as if they were doctors.
You wouldn't wanna enter a niche that is either too competitive to enter or that is restrictive to enter. Because we do blogging to make money (some do it for hobby until they realize that they can make money out of it)
Traffic = Money
#1 source of Traffic Google
You can tap that source via SEO (search engine optimization)
That is people are now chasing a micro niche. Let's break it down chronologically for better understanding.
Recommended: Keyword Difficulty – An Easy-To-Understand Guide
A niche is a nomenclature that is often used in Digital Marketing, it simply means a topic or a category.
For example, Technology is a Niche whomsoever is creating content in that niche are catering to technology niche.
Some examples are, TheVerge, Mashable, Techcrunch
A micro niche is a niche that addresses a single topic or category or a subset of that category.
For example, Technology is a single niche but it in itself is a huge umbrella. A lot of things can be encompassed under Technology, Smartphones, Appliances, Automobiles, Camping tools to name a few.
A micro niche would be a subset of it. 
For example, Camping Tools is a micro niche bloggers or content creators in this niche will only talk about Camping Tools that's where they will build their authority and become a thought leader.
Now, let's get to the interesting part
How to find a Micro Niche?
Step-by-Step Process
Determine a Niche using Flippa or other such marketplace
Automate Keyword Research using Ubersuggest
Get question ideas from AnswerThePublic
Get untapped topic ideas from Google Autosuggest & related searches
Just saying find a micro niche, start blogging and make money is a plan. But to actually find such a niche isn't that easy. But I have some tips that can help
#1 source: Flippa
Flippa is a domain flipping platform where people sell their domains which they have built and monetized to a certain extent and now they are selling it. Here you can also find fresh ideas. Go to Flippa.com → Content
Now using filters choose only starter sites and set the age to 2 years.
This way you will find micro niche ideas that are actually fresh. Take a site from there and scan that site on your favorite SEO tool to see the incoming traffic they are getting, what are their top ranking keywords.
Validate the impact and trend of the niche with Google Trends, scan that topic on Google Trends to see if it has a growing trend, staggerish trend or declining trend.
Apart from Flippa you can take ideas from Forum seeing if people are having a problem that aren't getting solved by any site.
You can also get ideas from day to day life like if something new has turned up out of nowhere due to economical, social or cultural factors.
For example, Remote Work is on the rise right now as a result some people have started blogging on that niche and are promoting remote work affiliate tools like project management tools.
4 Amazing Ways to find Micro Niche Keywords
Ubersuggest in my opinion is a tool using which you can find more keywords, especially the long tail ones. What's more interesting is the fact that it will also show ZERO search volume keywords. You never know, sometimes these zero search volume keywords can end up bringing as many as 200 visitors a month something you should not miss out on. Because if it is detecting these queries that means these queries where indeed searched.
2. Google Keyword Planner
The good old Keyword Planner never goes out of style.
The generate more ideas that too for free, Google Keyword Planner is the go-to tool
You can add more than 1 keyphrase while searching that are closely connected and as a result it will show the sum of two in the results and you will get close to getting the keywords you wanted.
Pro tip: Find the keywords with 0-10 & 10-100 search volume that are long queries, these most probably your micro niche keywords.
One of the best tools to hunt long-tail questions that people have already asked which you can create a post about in your micro niche blog.
Just add the seed keyword of your micro niche and hit enter
It will project a diagram containing all the queries related to your niche and that way you can find a ton of micro niche keywords and topics to create content.
Take a step ahead, and search that topic on Google with allintitle: to see the amount of content already published on that topic that will help you determine the competitiveness of the topic.
4. Google Autosuggest + Related Searches
Google autosuggest is the best place to hunt long-tail keywords i.t blog topics for your micro-niche blog.
There is an amazing hack to find numerous ideas from there.
Let's your micro niche is "intermittent fasting"
So in the box you will type intermittent fasting* right in front of asterisk you are supposed to add an alphabet from A~Z and it will show Paleo Diet search string where a comes after intermittent fasting
Furthermore, you can search for queries like intermittent fasting for* and now it will suggest all the queries where additional keywords in front of intermittent fasting for will be suggested.
It's amazing to see as to how many topics you can extract using this technique.
Related searchers are what can be found below the SERP, even those are the topics that you can pick for blog posting.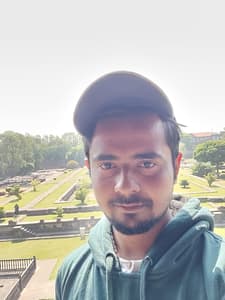 Kunjal Chawhan founder of Decode Digital Market, a Digital Marketer by profession, and a Digital Marketing Niche Blogger by passion, here to share my knowledge