What is Digital Marketing? what are the types of digital marketing? Is it marketing using the internet, electricity are they referring to radio advertising as Digital Marketing?
Lots of hilarious rumors are still floating around, but this guide aims to clear the rumors while shedding light on what really it is.
Read till the end if you want to understand what is Digital Marketing in its entirety.
In a very simple sense Digital Marketing is marketing your brand or business on the internet using internet tapping the power of the world wide web.
In the traditional ecosystem, some people refer to marketing as marketing (AKA pull strategy to attract customers towards a product or service and educate them) and at the same time misconceptionally it also comes off as sales (AKA making sales, approaching the prospect with the intent of converting them which depends on how well the marketing team educated them about the product)
Digital Marketing by the very definition would mean just marketing the brand i.e generating awareness about the product and educating the audience regarding the product.
But is it limited to that?? That seems hard to be the case, clients are more interested in sales than they want to see the numbers.
Very few clients would be seldom interested in "Brand Awareness"
Digital Marketing has a potential that is unparalleled, it can actually help a business generate sales. There are businesses that have completely switched to Digital Marketing for generating leads and sales and they find Digital Marketing is Cost-effective as compared to traditional marketing.
Businesses like tourism used to rely on sales rep & PR executives to bring in sales, that hardly seems to be the case now. The tourism industry realizes the untapped power of Digital Marketing and what it can mean for their business to drive revenue.
To cut it short, Digital Marketing is things we do for a brand or business on the internet to help them achieve their business objectives like sales, lead generation, brand awareness, brand recall, brand recognition.
A brand that isn't yet on the internet isn't really a brand on the internet though it must be a brand of the internet in the physical world. That's where digital marketing comes to the rescue and helps wannabee brands create that perception in people's minds via Digital Branding.
What are the basics of Digital Marketing?
1. Digital Marketing is measurable:
With Digital Marketing you can measure every activity which isn't possible in the traditional marketing. In traditional marketing let's say you set up a hoarding board advertisement; you cannot know how many people saw the hoarding board? How many people took the action you wanted them to take because of the hoarding board.
In Digital Marketing you can know how many people saw your advertisement or content, what their demographics, age, gender, interests, exactly who among them were the ones who took the action you wanted them to take at what time, day or hour they took that action.
2. You can target audience with precision in Digital Marketing
In the traditional marketing at the max you can take a guess and buy media at a place where you expect your target audience to be at.
You can get it right probably but it isn't 100% accurate. In Digital Marketing you can target the audience with the kind of keywords they use to search, the kind of YouTube they watch videos at, their interest, topics they follow, their age, their gender, industry they work, companies they work at, their relationship status and more.
3. You can retarget in Digital Marketing
Okay, this one is hilarious. Executing this on traditional is impossible there's no way you can remarket in the traditional marketing and if you find a way to do then I'm pretty sure that either you may face a restraining order or a lawsuit.
With Digital Marketing you can literally retarget the audience that has engaged with your digital asset like website or social media content which increases the likelihood of converting such prospects. 
It's like you own a book stall on roadside you particularly observed a prospective customer who comes everyday and checks out this one book, on one occasion he even added that book in his cart but didn't made it to checkout so one fine day when he visited your bookstore you urged him to buy that book and voila he bought that book. 
This can work, but this could require an insane amount of observation pointed towards every customer that visits your bookstore.
4. You can get free marketing with organic digital marketing
Another thing that traditional marketing doesn't have, in digital marketing you can create content and optimize it for the platform and get free exposure, leads and sales quite literally.
There are a number of brands in digital that exploits the untapped power of content marketing to generate business for free without spending a dime.
Your social media page is free to use, for websites you have to pay for just hosting and domain renewal once a year.
What is the role of Digital Marketing? And Why is it Vital to your Business?
The role of digital marketing lies in helping you generate brand awareness, leads & sales. It doesn't end there.
At the end of the day, it all comes down to where you can capture a priceless piece of digital real estate to promote a business and generate revenue.
A retailer would set up his shop in a central location that is situated in a residential area. That is how he could expect the x number of footfalls which will lead to generating the business.
The real estate in digital marketing is where maximum traffic arrives and consists of audiences who carry an attribute making them eligible to buy a product.
In Digital Marketing demand can be generated, you don't necessarily look for priceless real-estate properties. Real-estate can also be created.
What are some priceless real estates in Digital Marketing?
Search engines like Google where trillions of search queries are processed in a minute


Social media platforms that are used by billions of people



Email that billions of people use on a regular basis
To use Digital Real Estate already receiving huge traffic you will go with 2 options
# Option 1: Digital Advertising, you will run ads on platforms like Facebook, Instagram, Google, Bing, Quora, Pinterest, Reddit & More.
# Option 2: Media Buying, you will go with buying media on a place that is already receiving huge traffic & the traffic happens to be eligible at the same time. For example, a health blog receiving 120K traffic in a month, you can place your health product there.
To generate demand you will choose to go with the organic digital marketing way
With SEO you can drive qualified traffic to your website who will most likely buy your products or become leads.
You can work on Social Media Marketing to build a huge number of following, people following you will become your customers.
What are some examples of Digital Marketing?
1. Search Engine Optimization:
SEO is undertaken to drive organic traffic from search engines. We need traffic so that we can make money from that traffic, you can make money from that traffic by selling third party products, your own products & services.
Example of SEO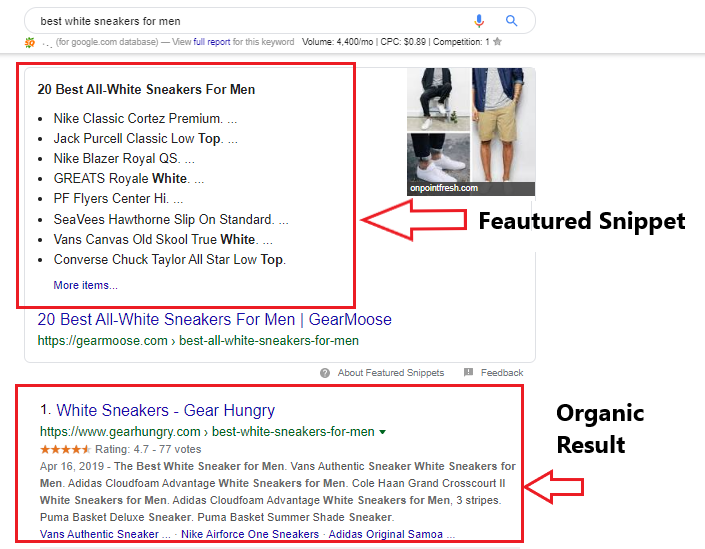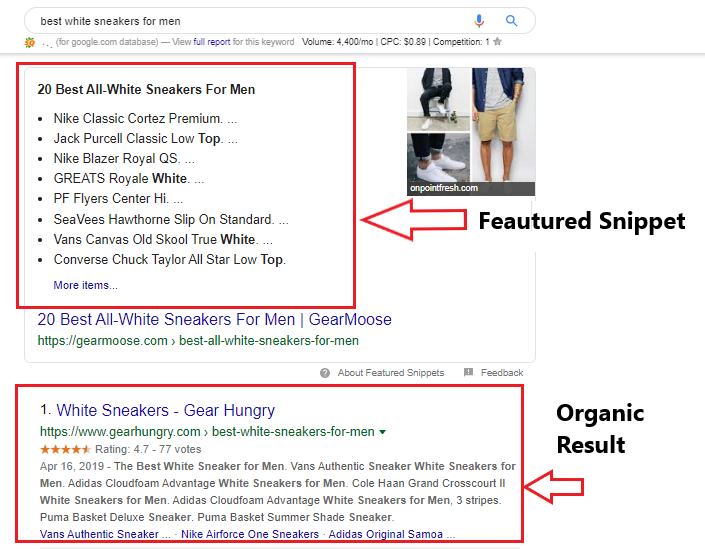 caption: Google Search Result Example
Gearhungry managed to rank for the above search query because of the effort they put into the SEO process.
2. Social Media Marketing:
Social Media Marketing is a type of digital marketing where you engage with your target audience on social media platforms like Facebook, Instagram, Twitter, LinkedIn, SnapChat & more.
Examples of Social Media Marketing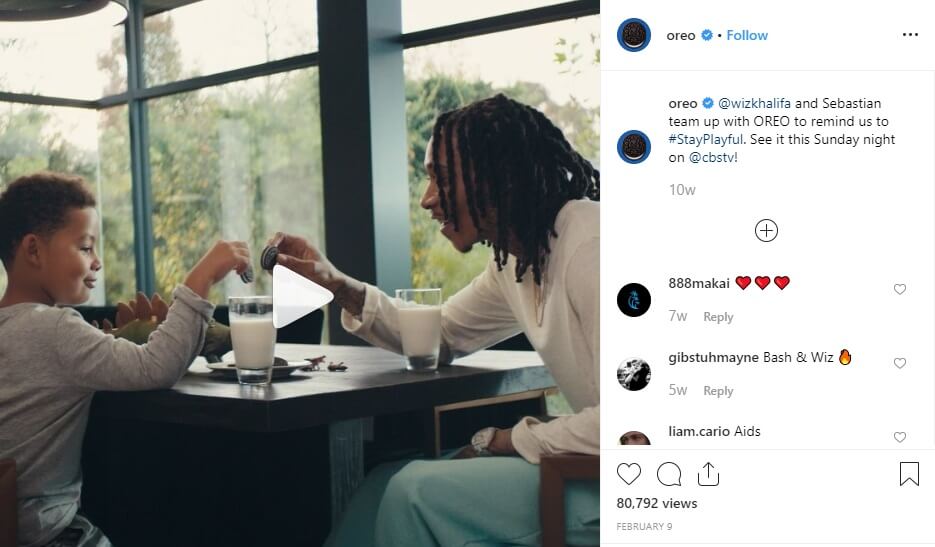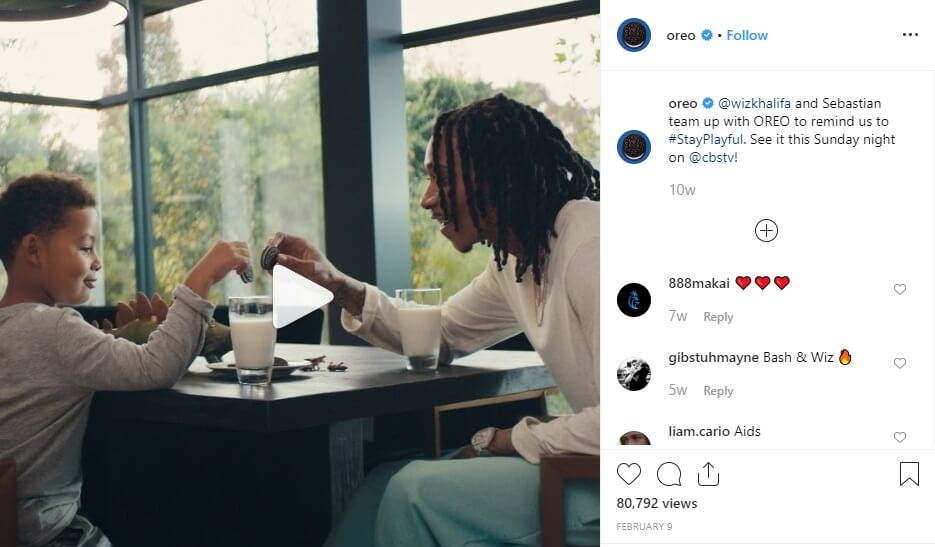 caption: oreo instagram post
In the above example, we can see how Oreo has leveraged Wiz Khalifa's influence for their social media marketing strategy.
3. PPC Advertising:
PPC Advertising takes place on different advertising networks like Google AdWords, Facebook, Instagram, LinkedIn, Twitter, Pinterest, Reddit, Quora, Yahoo & Bing. Essentially you run your advertisement here and pay for every resulting click to reach your targeted or retargeted audience.
Example of PPC Advertising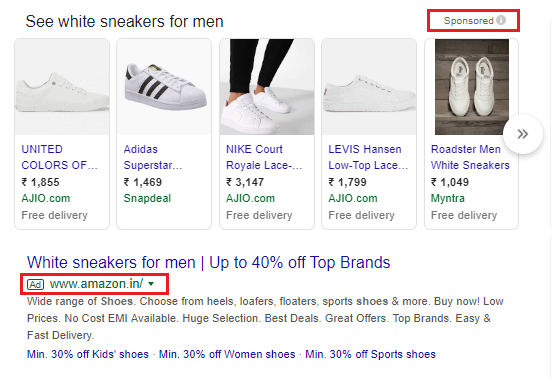 Caption: Google Search Ads
In the above PPC advertising example we can see how Amazon is leveraging Google Ads to come on top of search results as users search for that query.
4. Email Marketing:
Email Marketing is a Digital Marketing Types where marketing takes place on our email inbox like when a brand or a business shoots newsletter updates & promotional updates. Email marketing is effective in both B2B & B2C segments, more so in the B2B segment.
Example of Email Marketing

caption: Gmail Inbox
Just see how Brands have slid into my inbox with their promotional offerings. I may choose to click some provided if their subject lines make me curious.
Does Digital Marketing work for all businesses?
The short answer is YES & NO
It depends upon the demographics, demographics differ from country to country. In a country like the United States plumbing is regarded as a serious business that thrives using digital.
Plumbers are running call only Google Ads to generate leads for their business. I'm talking about Local Plumbers.
In a country like India when you Google "plumbers" you will probably see free Google My Business listings but hardly any ads. Whereas if you Google "plumbers" in the United States you will the SERP dominated by Google Ads.
Now you may wonder why I went to such great lengths explaining the plumbing business, the answer is to explain to you how digital marketing even supports tiny businesses like plumbing.
Ideally one would expect that Digital Marketing is a technology meant to be deployed on huge business or macro businesses like e-commerce, B2B suppliers, SaaS (software as a service) providers. 
That isn't correct, today Digital Marketing is helping businesses of all sizes. You go to an alien territory and you want a daily needs grocery item, what do you do?
You take out your smartphone and say "okay google, grocery near me" and boom Google will result in all the groceries near you. You don't have to go around asking people for directions to the nearest grocery. Had these groceries not registered themselves on Google My Business then Google would not show these groceries in search results.
That's the power of Digital Marketing!
Check out this resource by WebFx if you're still unsure whether Digital Marketing would work for small business.
What is a Digital Marketing Strategy? Do you need it?
"All you need is the plan, the road map, and the courage to press on to your destination." ~ Earl Nightingale
There is no digital marketing without a strategy. To achieve a goal you need a strategy. Has there ever been a chess game won without a strategy? In every step of the way there is a strategy to take out the enemy's player.
In the same way, to achieve your business goal in digital what you need is a strategy. Before formulating a strategy you will need a goal that is realizable.
That's why digital marketers often build goals that are S.M.A.R.T
Specific

Measurable

Attainable

Relevant

Time bound
The goal has to be specific. For a lead generation business the goal of becoming a billion dollar company or a profitable company seems quite generic or crude.
Being profitable is not a unique goal, no business on the planet wants to be a failure.
Being a billion dollar company is a long term vision.
The goal has to be specific. Like achieving x number of monthly organic visitors in 3 months timeframe or generating x number of leads in 3 months time frame and so on.
The goal I just described is specific, you can measure it via tools, whether it is attainable or not depends on the number you will assign to "X" it is relevant because website visitors that will come via organic medium will be highly qualified target audience that increases the likelihood of conversions which in this case is lead generation. It is time bound because we have set a 3 month timeframe.
So I hope, this article added some value and clarified your understanding of what is digital marketing? If you have any doubts then feel free to comment below.
Recommended Reads:
1. Is digital marketing a good job?
Digital Marketing is a great job to have, there is lots of learning that you can gain in a Digital Marketing job, you can work with clients catering to numerous industries it can in future help you start your own business.
2. Can I learn Digital Marketing on my own?
Yes, you can learn Digital Marketing on your own, there are lots of resources out there that can help you with that. Resources like Blogs & Free courses additionally you can setup your own website & social media, create content and learn practically.
3. Is Digital Marketing a Creative Job?
Digital Marketing is a creative job, it is a technical job and it is an analytical job. Digital Marketing is quite multi-faceted. As a social media marketer or a content marketer you can be creative. Whereas as a web analytics expert you can be analytical. In areas like SEO you need to have technical expertise.
4. How many modules are there in Digital Marketing?
There are majorly 7 modules in Digital Marketing as follows, Search Engine Optimization, Search Engine Marketing, Content Marketing, Social Media Marketing, Analytics, Email Marketing and Social Media Advertising.
5. What business are dependent on Digital Marketing entirely?
Businesses that exists on internet are entirely dependent on Digital Marketing, businesses like E-Commerce Stores, SaaS / IaaS / PaaS providers, Paid Digital Content Providers like OTT, Digital News Portal and more.
6. How Digital Marketing is different from Traditional Marketing?

Digital Marketing is different than Traditional Marketing on the note that Digital Marketing takes place online whereas Traditional Marketing takes place in the real physical world. In the traditional, the ROI and spend of marketing cannot be measured to the extent at which it can be measured on Digital. For example, you cannot know how many saw your ad on a billboard and what was their demography and gender among other attributes.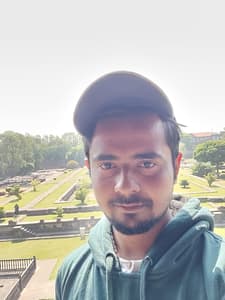 Kunjal Chawhan founder of Decode Digital Market, a Digital Marketer by profession, and a Digital Marketing Niche Blogger by passion, here to share my knowledge