In the new Digital World; the rules of money game has changed. The Dotcom world has made millionaires even billionaires and if there is any truth to the rumor then it appears that Jeff Bezos might be the world's first trillionaire by 2030.
In this internet economy, where would you prefer to build income streams?
An income stream that will pay you off with little to no efforts
Banks & Post-Office used to be a go-to option and rightly so because all you had to do was deposit your money there and bam you receive interest every month. This could potentially be profitable provided you invest a sizeable deposit. Like, let's say at least +200,000 even that's not sufficient, to be honest.
You can do the math by Googling the bank with the best interest rate which is trustworthy at the same time.
I am introducing to you an idea that will pay you off better than bank or post-office schemes
It's called building a website that you can monetize and make money from
It can be blogging or a lead generation website
Before we dig any further let me just quickly enlist all top the ways you can monetize your website and make earnings
Advertisements ( Adsense, media.net, ezoic )
Affiliate Marketing
Lead Generation
E-book sales
Website flipping
What kind of investments are incurred while investing in a website?
Investing in a website will cost in terms of investing in a good hosting & booking a domain name. These are the starting steps.
As with content curation AKA Blogging that is something that you can do yourself just pick a niche that is also your passion and has a scope of monetization at the same time in terms of ads and affiliates. Believe me, there are niches that can drive you good traffic but it's impossible to monetize them with ads & affiliates. You wouldn't want to put your hands there.
The most crucial investment that you will need to make on the website is SEO (search engine optimization) it will help you bring highly targetted traffic.
Is SEO difficult to master for content websites?
Short answer – NO
You just have to find the right resources online to master this skill
These are some resources that will help
Income School YouTube Channel their SEO content is mostly rigged towards content SEO. Like how can you rank your blogs on Google ow can you score the featured snippet positions.

Authority Hacker, they are all about building authority sites and ranking content

Dough Cunnington, the guy literally invented "KGR Ratio" (keyword golden ration) that predicts how long it will take you to rank on page 1 of Google
Checkout these SEO terms to familiarize yourself with SEO
Why is it important to bring highly qualified traffic?
The idea is not to think about traffic or bots, it is human beings who will help you earn money in exchange of you helping them with content that is useful to them.
But how would they come across that useful content in the first place?
Hate to put this, but it's KEYWORDS
People search keywords, keyphrases, and search terms to arrive at your website. With highly targeted keywords their variations, synonyms, and supporting phrases you will attract the right audience to your website. If they are pleased with your content then they wouldn't mind clicking your affiliate links and help you earn a commission.
If the audience arriving at your site is qualified then chances are that they will be exposed to very high-quality Google Adsense ads, the better the ads the more likely they are to click those ads.
Who knows maybe they will take the action that ad wants them to take and now you will earn ad revenue via CPM (cost per impression), CPC (cost per click) & CPA (cost per acquisition)
Highly qualified traffic is potentially a lead already what are the odds that they will become leads for your lead generation website? Very high I assume.
Let's say you built a lead generation website for real estate or insurance where you are showcasing properties that people might be willing to purchase they will fill their information to incite interest in the property.
You can sell those leads to real estate companies of that target location. They would be willing to pay you well for that.
That's a potential conversion that you are selling them.
What are the combined ways a website can make money if it goes all aggressive?
Ad revenue via portals like Adsense
Affiliate income
Native Advertisement
Custom Advertisement (media buying)
E-Book (works if you have picked a micro-niche and are authoritative in it)
Lead Generation for the third party
Considering that you can take care of content blogging & SEO part yourself all you have to invest money into is hosting and domain name
By deploying all the monetization tactics you can be making ₹ 8,000/month in the worst-case scenario; not that it will stay restricted to that it can only grow further.
Further reading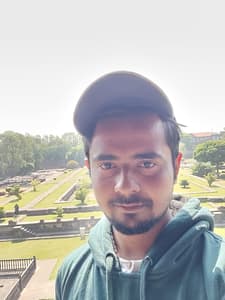 Kunjal Chawhan founder of Decode Digital Market, a Digital Marketer by profession, and a Digital Marketing Niche Blogger by passion, here to share my knowledge