This is not just another web hosting review, Decode Digital Market is indeed hosted on Hostinger WordPress Hosting
In this unbiased Hostinger Review, you will learn everything that you need to know about Hostinger and why Hostinger.in is the best WordPress Hosting in India if your budget is tight & you still want the best hosting for your WordPress website.
I am done conducting the website speed test and I can't wait to share my insights with you
Without a shadow of a doubt, Hostinger has proven itself to be the best WordPress Hosting in India in all regards, be it price, performance, or website speed.
Right now in India, all of the sudden people are exploring web hosting options as Siteground has dramatically increased the pricing of its web hosting plans.
Hostinger is at your rescue amidst a crisis like this. 
For a newbie blogger especially it is very important to explore avenues for saving costs on the website. Because either way the website is not gonna be monetized anytime soon overspending on the host in the meantime doesn't seem advisable.
In this Hostinger WordPress Hosting review you will learn everything that you need to know before you choose to go with this.
General Overview of Hostinger
Verdict: Best & Cheapest WordPress Hosting in India
Speed: 0.437s (TTFB)
Cumulative Layout Shift: 0.022s
Uptime: 99.98% (Sept 2019 – Sept 2020)
Support: 24/7 Live Chat
Features: 100 GB Bandwidth, 10 GB Storage, Website Builder, 1 Email Account
Plans: Shared Cloud & VPS
Site Transfer: Single Free Site Transfer
Pricing: Starts at ₹59/ month
Server Location: USA, Asia, and Europe
1. Uptime is great: Mostly at 99.5%
It is very important to check the uptime of the web host you are choosing to go with. A web hosting with poor uptime can turn out disastrous for your website in terms of losing traffic.
Just imagine if you choose a web hosting with poor uptime for your e-commerce store. You can lose a lot of organic sales just because of poor uptime that host has.
That isn't the case with Hostinger, the uptime is pretty solid
Here's the last 6-month breakdown of uptime
April 2020 – 99.98%
May 2020 – 99.18%
June 2020 – 99.81%
July 2020 – 99.93%
August 2020 – 99.96%
September 2020 – 100%
Looks pretty good, doesn't it?
2. Fast website load time
Earlier when Decode Digital Market was hosted on Godaddy I could never go below the threshold of 7 seconds and that used to frustrate me a lot.
It always used to point me in one direction alone and that was that I need to shift to a better host and so that's what I did.
Now after shifting to Hostinger; the website takes just 1.5 seconds to load
It is incredibly important to optimize the website for high page speed more so in 2021 because Google is gonna go ahead with Core Web Vitals that judges the website on 3 crucial metrics they are Largest Contentful Paint, First Input Delay & Cumulative Layout Shift
A website taking more than 3 seconds to load can make 40% of users abandon your website this is all the more reason to focus on website speed optimization.
In 2021 you have got to be ready with a website that received green signals on core web vitals because Google will consider these as ranking signals.
3. Flexible payment options and 30-day money-back guarantee
I was sold on two things, flexible payment options and a 30-day money-back guarantee. I literally bought the hosting using Paytm UPI payment options.

A lot of web hosting platforms have credit cards as their only payment option or in addition, they will have Paypal to make payment.
But Hostinger India understands the trouble with payment options we have and hence here you will find various payment options like Credit cards, Debit Cards, UPI Payment, Paypal & Netbanking.
The 30-day money-back guarantee is another thing to feast your eyes upon. Web Hosting is seen less as an expenditure that you bore and more as an investment that you make.
If there is a chance that you can withdraw investment within 30 days then that seems like an opportunity that you would want to take.
Since Hostinger has a proven track record of delivering a great experience to its users that's why they have taken this bold step to offer a 30-day money-back guarantee.
A poor web hosting service provider would never dare take such a misstep.
Hostinger offers customer support on the website with a live chat application and it offers this support in multi-lingual languages.
It is important to see this feature in a prospective host company because you may need their help urgently at any time. Like maybe your site crashed or something when this happens you want to make sure that you can reach them ASAP.
The Live Chat functionality is only accessible to logged-in users. To chat find this icon in the bottom or contact page
Not that I recommend this option since I am a WordPress Fanatic; the suggestion would be to of course build your website on WordPress. Hostinger happens to come with this value-added functionality.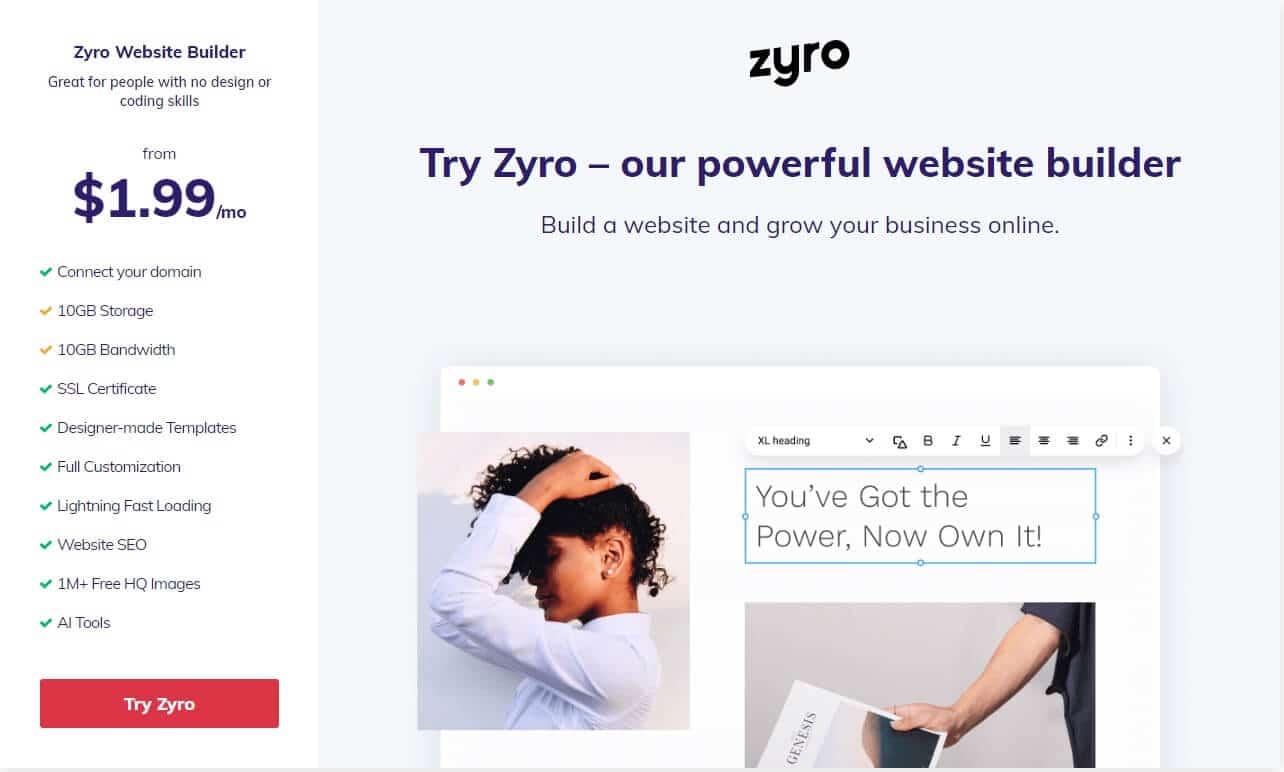 With their free website builder, you can choose from the various template and customize the website just the way you want it to appear as it goes live
I like this aspect quite a lot about Hostinger, their User Interface is quite impressive and super easy to use.
Unlike some old web hosting providers; Hostinger's website user interface is quite modern in a way that it makes it easier for you to navigate.
After logging in; in the website header, you will find pages like hosting, emails, domains, servers, SSL, Billing, Help, and store this is amazing because regardless of which page or location you are at the above mentioned pages are just a click away.
7. Exclusive Features in Premium Web Hosting Plans
If you are thinking long-term and in terms of expansion then definitely go with the premium plan. The exclusive features that you access are simply unmissable.
Here's what you get in the premium web hosting plan
If your core business caters to multiple countries that means you are gonna have to set up multiple websites in that case it makes sense to take up a plan that allows you to connect multiple websites; in Hostinger's Premium plan you can add as many as 100 websites.
Does your website receive +10,000 visitors a month? If your answer is yes then you need this plan as it can manage unlimited users.
It would be a shame to lose potential traffic just because you chose a hosting plan that couldn't handle more traffic.
8. Affordable Host Pricing
While it does seem that they have deployed strategic pricing to make users take prolonged plans it does however turn out to be an even better deal.
For example, I grabbed the deal on Independence day and got a whopping 70% Discount and this offer is still on by the way.
The number 1 rule of purchasing web hosting is; always buy for more years rather than buying it for let's say just 1 year. In the long run, you save a lot of money.
As you can see in the above image; if you purchase the premium web hosting plan for 4 years, you have to pay only ₹ 6,740/-
However, if you buy the hosting for just 1 year 
Then you pay nearly half the price of the 4 years plan. It just doesn't make sense to buy it for 1 year because the pricing isn't set evenly.
They are focusing on users that want to stay with them for long and as a result, they are rewarding them with crazy discounts.
If you're a blogger that is just starting out and wants for 1 website only then in that case I would highly recommend you to go with Single Web Hosting Plan. It's more affordable for you.
The Single Web Hosting Plan for 4 years costs you just ₹ 3,342/- I mean that's an insane discount.
This plan is also highly recommended for Local Business Website because they anyway don't generate traffic +10,000 in a month; this plan is suitable for them. This in particular makes Hostinger a perfect Small Business Web Hosting.
Everything that you have read so far would make you want to love this European Web Hosting Company, but life is not all rainbow and sunshine.
There are cons to Hostinger also, but it's not that severe that you should drop the plan to purchase. At least I haven't felt the need to cancel my 4-year hosting plan.
Anyways, let's take a look at the cons of using this web host
1. Cannot access Live Chat without being logged in
This can be frustrating for the fact that you cannot chat with the support without being logged in.
But then getting logged in isn't that big of a hassle because to log in as Hostinger has Google & Facebook Login APIs just in case you created your account that way.
You can chat with them even without logging but to do so you are gonna have to go to the Customer Care page that can be found in the footer all the way down.
That will take you to the page and there you will have to click on general inquiries and after that, you will have to fill up the contact information like name & email to begin the chat.
2. You might miss the traditional CPanel
If you have long been a CPanel user then you might miss that interface, Hostinger has it's own HPanel instead of CPanel. The look and feel are different which might confuse the new users. It takes some time to get acquainted with it.
On the flip side, the interface is easier to use than that of CPanel so there's a silver lining right there.
3. Must pay for extra domains
The registration for 1st domain for premium and business plans users is free for shared and well as cloud hosting plans.
However to add more domains a little cost will have to be incurred
Domains with the extensions ".com" and ".net" are under $10 per year, while a ".xyz", ".online", ".tech" domains are only $0.99 per year.
A quick glance at Hostinger pricing plans
Do I Recommend Hostinger?
A Big YES!
I couldn't be happier for making the decision to buy Hostinger Hosting. I mean what's not to like about it?
It is affordable, uptime is fantastic, you have three server locations to choose one of which happens to be from Asia which sorts out things for an Indian Website, website speed is awesome and support is great.
Even Neil Patel is recommending Hostinger in his blog ranking it at #5 as Low-Cost Shared Hosting options for Startups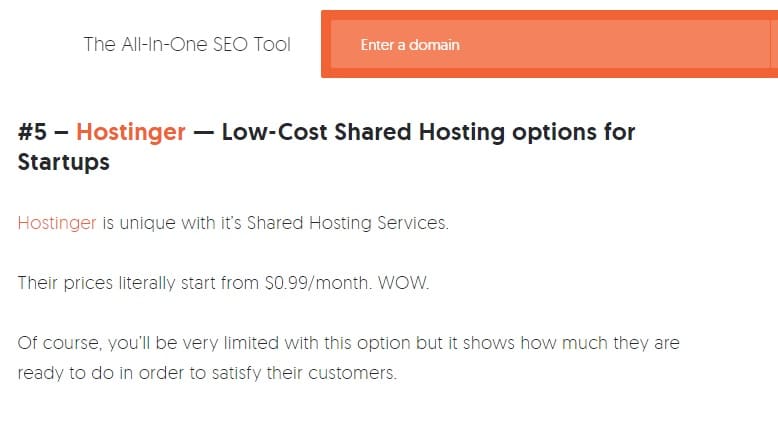 Kunjal Chawhan founder of Decode Digital Market, a Digital Marketer by profession and a Digital Marketing Niche Blogger by passion, here to share my knowledge