In a country like India, what do you think is the biggest challenge for businesses that are going online?
Is it budget? Determining the right channels? Lack of consumer or market research? An inevitable loop of poor Digital Marketing Agencies?
Many more such questions pop into our minds, to finally figure out how to find your way out of this maze read this blog post till the end. You will surely get your answers.
But let's first understand the basics
Why take your business online?
The online has more to offer to your business than what offline does. Businesses have boosted revenues just by making their presence known in the online space.
From a marketing or sales perspective, you want to be where your customers are; NOT where your customers aren't or are in fewer numbers.
For your business to find customers without the internet means relying on sales representatives in the market and infusing expenditure on them; then opening a storefront and dealing with customers in real-time.
This isn't a wrong approach; but what if you could claim a stake in another territory where some more potential customers are present; which also happens to be more cost-effective.
That territory happens to be the internet.
A manufacturer producing commodities and deploying sales representatives in the market to find customers and sell to them can additionally set up an e-commerce store using solutions like WordPress and Shopify and sell to a much wider audience across the country and also beyond the country and that's totally scalable and much more profitable.
That's the power of taking your business online. There are various mediums that will allow you to make that happen. Mediums like SEO, SEM, Social Media Marketing, Social Media Advertising & Email. We will dig into this in the following point.
#1 Challenge: Choosing the right technology
Being able to choose the right channel has been a challenge for most traditional businesses that are transitioning into the digital i.e. going online.
What all Digital Marketing Channels are available anyways?
Here are a few important ones
SEO

SEM (i.e. PPC ads on search engines and display network)

Social Media Marketing (works best for B2C)

Social Media Advertising (works best for B2C and also for B2B in certain cases)

Email Marketing (works for both B2B & B2C)
Depending upon the nature of your business you have to select the appropriate digital marketing channel. If your business falls into the category that can utilize multiple channels then by all means engage in all those channels to get the best ROI.
For example, a business catering to the cleaning industry can serve both B2B & B2C. if catering more to B2B let's say you are selling commercial cleaning services to restaurants, halls & such establishments then it doesn't make more sense to invest highly in social media marketing. 
Just for the sake of maintaining an online presence, it's pertinent that you put out social media content.
Types of content you can put out on social media are, testimonials, actual pictures of cleaning professionals cleaning the establishment, employee pictures, then & now effect of the cleaning, even educational posts educating about the cons of not hiring a professional cleaning service for the business and that how it can gravely affect the business in the long term by adding more overheads.
But, the channels that will have a massive impact on the cleaning business in the Digital are, 
1. Search Engine Optimization

People are searching for cleaning services online; search for keywords like "cleaning services NJ" and see the kind of search volume your favorite keyword research tool would show. 
Be there when your target customer searches for the services that you sell. Follow the best Local SEO practices, claim your Google My Business Listing; optimize it, and claim more Google real estate like knowledge graph and Map Pack. A well-optimized website for search has greatly helped cleaning services businesses generate tons of leads & revenue.
Here's a highlight, the quality of lead will always be higher in SEO as opposed to other channels.
2. Search Engine Marketing
SEM is another great area of focus, it involves activities like running search ads campaigns on Google Search, YouTube, and Google Display Network as well. For B2B this can be a great resource to generate cold leads. Because again people are actively searching for services like this on search.
#2 Choosing the right agency or freelancer
This is where the manipulation games begin. More often then not a business owner fails in choosing the Digital Marketing Agency or a Freelancer who can help them achieve their business goals as cost-effectively as possible.
Because agencies and freelancers are equipped with tools of titans to manipulate the client into believing that they can deliver exactly what he wants.
It is very important for the business owner to choose the right Digital Marketing team to achieve his goals. Otherwise taking the business online can rather turn disastrous.
Ask the right kinds of questions to the one who will help you crush it in the online space. To validate the effectiveness of their credibility ask for case studies; manually look for data they have added in the case studies.
The one who has already done is several times and is also producing case studies to prove the point; he can do it for you as well.
Just stay away for marketers who agree with all your points while they are pitching you. Even with unrealistic points like "I can rank you in a month"  spotting culprits become a no-brainer then.
#3 Over dependency on the agency and disconnect from the customer
Hiring the right agency or a freelancer can do wonders for you in terms of driving profitability in your business. But oftentimes what ends up happening is that the business owner becomes complacent and adopts a laid-back attitude that now let the Digital Marketer take care of the business and that can have fatal consequences for the business.
Your job as a business owner continues as long as the business continues. Now with Digital Marketing, you don't have to fret about Lead Generation; perhaps you also took care of lead quality.
But it's still your job to maintain cordial relations with your customers for that you need proactive communication and that sometimes means not extensively relying just on the digital mechanisms.
Step out of the Digital and communicate with your customers the way you did before taking the business online.
Work on creating more products or services. Keep going on!
So this in my opinion are 3 major challenges businesses are facing while entering the internet.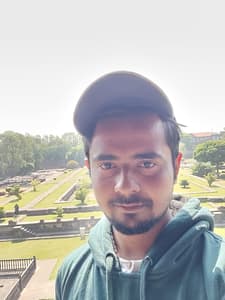 Kunjal Chawhan founder of Decode Digital Market, a Digital Marketer by profession, and a Digital Marketing Niche Blogger by passion, here to share my knowledge