Hotel Industry has long been leveraging Digital Marketing to tap the customers online using channels like Social Media & Email. But ignoring SEO is not a wise thing to do, the potential of SEO for Hotels is super-high.
Specifically, in this post, you will learn how to do keyword research for Hotels that will help you capture the top placements in the Google real-estate.
Also included in this post are some popular Hotel SEO keywords that you should use for restaurant websites.
SEO is in a state of constant flux every once in a while we come across an algorithm update, that is why it is important for hoteliers to learn the process of keyword research for their restaurant website; the process that isn't redundant and works in the 'Now'.
Why Keyword Research is important for Hotels?
This seems like a valid point to start with, what makes keyword research important in the first place?
The answer is the search for hotels in the modern-day behind with Hotel keywords. I am well aware of the fact that the #1 source of customers for a Hotel is referrals and recommendations.
But at the same time, there is a segment of the customer base who are discovering options on search engines like Google.
And when they do you want to be sure that your presence is there. If it isn't then you are missing out on that customer base.
This customer base could be millennials, even generation X (cannot chicken out the possibility of Gen X using search to discover Hotels & Restaurants) & of course who can forget the tourists? One of the key ways tourists discover a hotel is through search.
Why Search Intent Matters when you are doing Keyword Research for a Hotel?
Search intent is a very powerful thing when speaking of keyword research & SEO. Turning a blind eye to searchers' intent, in the beginning, can put the entire SEO project into jeopardy; you may have to go back and do things again.
There are basically 3 types of search intent
1. Information Intent:
Information Intent means when the user wants to acquire information to educate himself.
In Hotels or Restaurant's case first, he would like to acquire information, he would want to educate himself. Nothing spoils the mood more than having to eat food that is awful or eating food at a place that is awful.
A user at this stage can search for something like "best place to eat Thai Food"
As he searches for that, a Thai Hotel can rank for that query; the user will click the "Reviews" tab and go through the reviews that the website has put together from Google My Business, Yelp & Facebook.
Reading these reviews he will make up his mind.
2. Navigational Intent:
The customer who knows about your hotel would refer your hotel to many more now even more people are aware of your hotel; they wouldn't search for "best hotel for blah blah blah…" they would rather search for your hotel name right away.
This is where choosing a unique brand name for your hotel plays a role, if you choose a brand name for your hotel that 50 other hotels have also used then you may lose some equity to your competitors.
Again this isn't something that can be rectified; not at least by the SEO team as it concerns the main business foundationally.
3. Transactional Intent:
The customer with this intent would search for something like "Book reservation at ABC Hotel" this where it becomes necessary to create a booking page & targeting those keywords there so it becomes convenient for users to locate that page from a Google Search.
What are the types of keywords you should use on your Hotel website?
Essentially you will deploy three types of keywords & keep these in mind as you do keyword research
Short Tail Keywords

Long-Tail Keywords

Mid Tail Keywords
Short Tail Keywords are keywords containing just 1 or 2 words. It can be something like "Hotel", "Banquet", "Luxury Hotel" etc
Short tail keywords are equally important; the focus on long-tail keywords often overshadows the significance of short-tail keywords. Short tail keywords bring you the most relevant audience.
Long Tail keywords carry enormous potential an often overlooked phenomenon.
In fact, long-tail keywords are foundational blocks of any restaurant website that you are trying to set up for organic traffic.
How well you incorporate long-tail keywords in a restaurant website determines how soon you will begin seeing the influx of traffic at the same time it also determines the quality of the traffic.
Let's say you have a lavish waterfront restaurant; you would obviously want to highlight that
Some examples of long-tail keywords for a restaurant website are: 
Nobu: Waterfront Restaurant in Malibu, California
Here the hypothetical brand name is Nobu, "Waterfront Restaurant in Malibu, California" is the searchable keyword for which you will receive organic search traffic.
So this page can potentially rank for queries like branded queries "Nobu restaurant malibu"
Generic searches like, "waterfront restaurant", "waterfront restaurant in malibu", "waterfront restaurant in California", "restaurant in California", "restaurant in malibu"
For a single location website, the most important page that will attract tons of organic traffic will be the homepage, followed by pages like the reservation page, and review page. It is possible that people may search for phrases like best Thai food places in NJ and for that you can set up a review page for your Thai Restaurant. Its title tag can be something like "Best Thai Restaurant in NJ – Read Reviews"
Lastly, take a look at these popular restaurant/hotel keywords that contain both short tail & long-tail keywords.
Also read: Keyword Difficulty Guide
Keyword Research for Hotel Website [Done for You]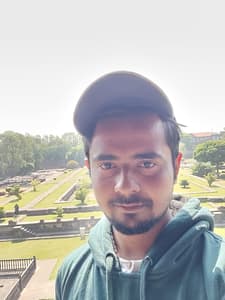 Kunjal Chawhan founder of Decode Digital Market, a Digital Marketer by profession, and a Digital Marketing Niche Blogger by passion, here to share my knowledge