Creating decent content for a website is no simple task. It has to be topically relevant, useful for readers, versatile, well-presented, and frequently posted on each channel of communication. Yet the often-overlooked "pot of gold" that's created by users is the one that deserves extra attention in the field of online sales. This especially regards those business owners who are currently seeking ways to optimize their eCommerce store.
In this article, we'll introduce you to the role of user-generated content (UGC) in online retail and explain how to stem the tide of this frequently neglected hidden gem to the advantage of your business. Let's dive right in!
So what falls under the UGC category?
First things first, we should define what can be considered as content that's created by users and that can be beneficially used for eCommerce purposes.
Testimonials,

Product reviews and feedback,

Feature articles and blog posts,

Videos and tutorials with a brand or product,

Various posts made on different kinds of social media (from photos and pictures to Stories, etc).
At a basic level, content can be thought of as user-generated if it's:
anything a regular person creates on their own initiative and voluntarily (without some self-interest to get paid for it),

something (be it their opinion, image, video, overview, etc) that features a product or service,

if it's shared via their own social media space (Youtube, Pinterest, TikTok, Instagram, Facebook, Twitter, etc) or on the internet in general, 

importantly, unlike the

content provided by influencers

, UGC runs on a payment-free basis.
What's the point of using UGC in eCommerce?
As was briefly mentioned above, there are many things that make UGC an eCommerce store's treasure. Let's go over the 10 main benefits:
Creating quality content on a regular basis is tough. Therefore, by getting a hold of content that others make and sharing it in a well-presented way, you make your own life easier. Less content plan brainstorming, more to-the-point results.

 

You can

enrich your content strategy and online presence across multiple channels

as it is considered good practice to cross-link and share content on every one of your touchpoints with users (your eCommerce store, emails, social media, etc).

 

People tend to trust the opinions of other customers

more than the promises that you make about the product in your descriptions. The truth is, your potential buyers would rather hear about a product from someone who has already bought it or used it than from you. Therefore, by having UGC elements present on your store and on your social accounts, you

raise trust in your brand

.

 

By displaying the content of your customers and followers, you show that you care and appreciate their effort. This surely helps to

strengthen your relationships with your existing clients

and can even give occasion to them becoming your regulars in the long-term perspective.

 

You can

inspire people to make purchases

. By displaying pictures of your happy clients using or wearing your products or their positive testimonials about your products, you can stir up various feelings, including "I want this too" and the desire to buy.

 

By being favorable towards UGC, you can

increase brand interaction of your users

. When you allure your clients to participate in giveaways and contests (many of which have content creation and shares among the participation terms), this engages more and more people among your existing and potential customers.

 

Furthermore, for example, when you motivate people to create a post on Instagram with your product and tag your brand to get featured on your website and socials,

users who make it become satisfied if their content makes it on to your site

. For instance, because they can get more likes or followers.

 

It works the other way around too. Imagine how much

additional audience reach and exposure

via social media

you get when someone posts something about your brand. A huge percentage of the customer's followers will see your store and products which is somewhat a free ad.

 

Another point to note regards feedback. In case your customers leave negative reviews, this is

your chance to improve something that isn't perfect

. You can learn about the flaws and drawbacks of what you're selling and make conclusions on what needs fixing.

 

And the best part about it is that

UGC is basically a freebie for you as a business owner

. Give your users proper credit and the needed attention (for instance, make sure to reply to their review or offer them some sort of perk for taking the time to write the feedback), and you're good to go.
Which eCommerce niches should use UGC?
Fair enough, making use of user-generated content won't hurt any eCommerce field. But, generally, for some industries or niches, it will be more effective than for others. The same applies to the target audience reach too.
To clarify, according to a Tintup case study:
"A staggering 93% of customers believe user-generated content is very helpful when making a purchasing decision. User-generated content is 20% more influential than any other kind of media when it comes to millennial buyers."
Mentioning specific online retail spheres in which UGC will come in handy, it'll bring you more fruitful results if you're selling:

beauty products and cosmetics,

shoes and clothing,

jewelry and accessories,

home decor elements and furniture,

even tour packages and excursions,

as well as basically any other items that are purchased based on "visual appeal".
Using UGC in eCommerce to your advantage in 3 steps
To be more specific about what can be done to enhance an eCommerce store with user-generated content, below are three simple steps that can help you improve your website. The provided vivid examples of how it's done on the sites of renowned brands can also be handy.
Step 1: Enhance your client reviews sections
The first thing you should start with is working on your customer feedback sections. As shortly covered before, these parts of the product page greatly influence your buyers and their decisions regarding whether to purchase an item or not.
Thus, it makes sense to display a rating for the product that'll be calculated based on the grades given by clients in their reviews. As a rule, such ratings are shown in stars and placed right within the product overview area that's at the top of the page. 
Plus, such ratings are often accompanied by the total number of reviews indicated in brackets. This rating element is usually clickable and takes the user that taps on it right to the reviews section of the page.
What's for the reviews area itself, it is considered optimal to have a reviews overview or summary section prior to the actual comments. This approach is effective as it gives a quickly comprehendible outline of all the reviews in one simple abstract. 
Furthermore, think about which review parts to display. As a rule, apart from the text, every review has information on the person who left it (sometimes apart from their name, you can see their geographic location, age, or even the size they wear). 
Another nice thing to do here is allowing users to attach their pictures to reviews too. You can also add common points that'll be shared by every review, this can be a "Yes, I recommend this product" checkbox, or a "Fits according to size" element.
A good example of a neat way to organize customer reviews is the official MAC Cosmetics website. In addition to the points mentioned in the tips for this user-generated content use step, this website decided to be creative with reviews and implemented a very beautiful additional section that shows the product, some text extracts from reviews in quotes, pictures, and even a video of clients who are happy with the product.
Step 2: Wire up your store with social media widgets
Secondly, the widgets that'll connect your eCommerce store with social media channels are worth your consideration. As a rule, such widgets "pull" those posts made by regular people on their own social media accounts that have your store's social account or product tagged. Of course, you can verify this type of content before it goes on your page.
From a technical perspective, the widgets may differ not only in design. They are generally different from one platform to another. Moreover, some advanced widgets even show the details of the specific product that the user is showing on the photo or video. Importantly, such products become shoppable, taking the user to the corresponding product page by click.
Topping that, you can simply make use of the "Add to gallery" functionality. That'll give your users a chance to upload and share their images directly on your site.
The example that I chose to show you is the "Show How You Wear It" social media section on the official Reebok website. As you can see, the section sorts out only those social media posts made by users that correlate with the specific product and are placed right within the product page. Such pictures are clickable and give credit to the contributor. I also like that there's a message that invites customers to make posts and gives specific instructions on what to do to make it to such a section.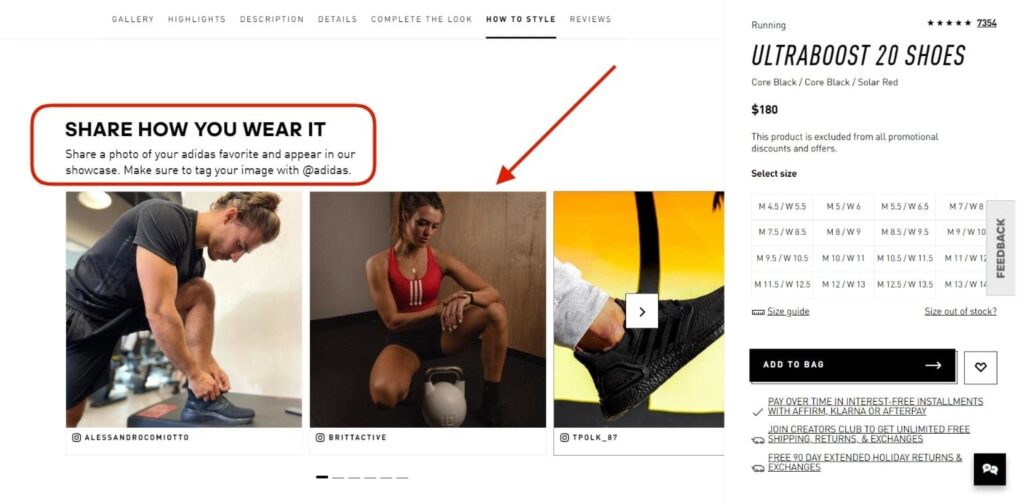 Step 3: Cross-link user-generated content on all your channels
The third thing you should do is start sharing the obtained UGC across your social accounts and store. For instance, you can beautifully organize and design feedback excerpts. 
Place them in banners or use them in your emails, social media posts, banners, and stories. Some online stores even devote separate categories to such processed feedback on their social accounts, say, in Instagram Stories highlights circles. A little creativity and proper credit to the author can take you a long way.
Likewise, you can just repost the UGC on your own channels to enhance your content strategy across your socials. This can bring you more followers and show those who aren't familiar with your brand yet that you're a "real thing".
Take a look at the below screenshots from the official Levi's Instagram account. There are two blocks dedicated to user content called "As Seen On I" and "As Seen On II". Here, they collect Stories and posts with client content which is an outstanding move.
Over to you
Now that you have a better understanding of how valuable user-generated content is and how advantageous its use can be for your own eCommerce business, make sure to rethink your strategy and surely give it a go. Hope that you've found the tips given in this guide handy, and good luck at growing your online store!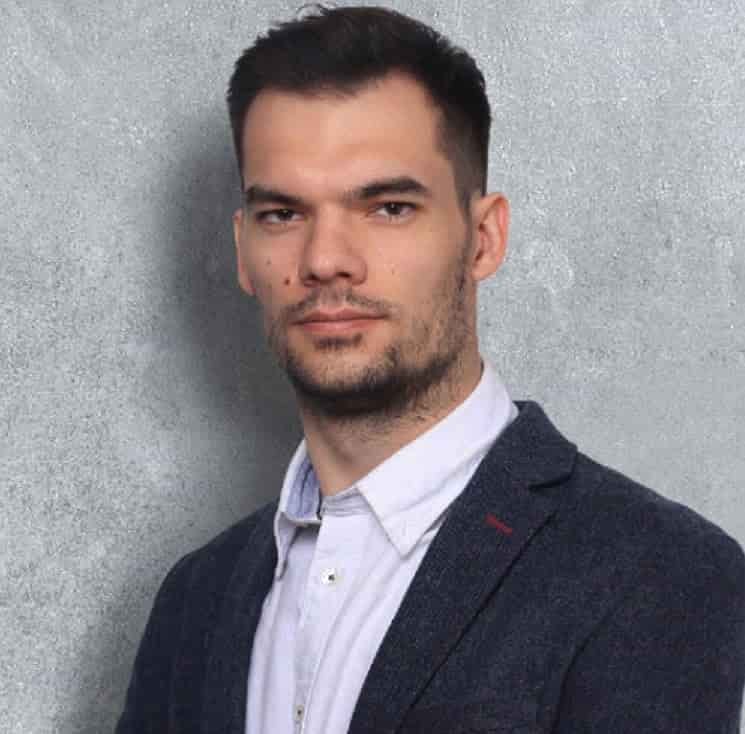 Alex Husar, Chief Technology Officer at Onilab with 8+ years of experience in progressive web application development, Magento migration, and Salesforce development. He graduated from the Czech Technical University and obtained a bachelor's degree in Computer Software Engineering. Alex's expertise includes both full-stack dev skills and a strong ability to provide project-critical guidance to the whole team.