Let's first establish why would you need to check if a website has Google Analytics installed.
Two things
If you're here seeking answer to "How do I tel if a website has Google Analytics?" then chances are, you are performing an SEO Audit for a client and you are checking whether he has GA installed or not. Believe me, there are websites; established websites that don't even use Google Analytics.
2nd instance is that you wanna check if your own website has Google Analytics or not.
4 Ways to Check if a Website is Connected to Google Analytics
1. Check via Google Tag Assistant
There is this amazing free Chrome extension called, Google Tag Assistant. You can use this extension to see what tags a certain website is using.
Using this extension you can check if a website has added Google Analytics Tag a very easy yet useful way to check if a website is connected to Google Analytics.
You can identify GA of those website who added the tag using Google Tag Manager.
2. View Source Code look for (UA-)
This is an evergreen method to look whether a website is making use of Google Analytics.
It is quite simple, open the website and click ctrl+U it will open up the source code in the new tab.
view-source:domain.com this how the website will be opened in the new tab.
Now you have to click ctrl+f it will open the find tool and then type UA- and hit enter.
Voila! Now it will easily help you find the code. You will search for "UA-" because that is how the Google Analytics code begins. 
By the way, UA stands for Universal Analytics.
3. Use a free third-party tool to let it find Google Analytics for you
There is a simple free tool out there that let's you check if a website is connected to Google Analytics.
The tool is web-based just a few clicks away
Just go to www.gachecker.com
As soon as you hit enter, the tool checks for following tags
Global Site Tag
Universal Analytics
Analytics Classic
Analytics Remarketing
Additionally, the tool also looks for 
Google Analytics (ga.js)
Google Analytics Remarketing (dc.js)
Google Universal Analytics (analytics.js)
Google Analytics Global Site Tag (gtag.js)
Google Analytics Experiments (ga_exp.js)
Google Tag Manager (gtm.js)
Google AdWords Conversion (conversion.js)
Google AdWords Phone Conversion (loader.js)
Google AdWords Remarketing (conversion.js)
Google AdWords Dynamic Remarketing (conversion.js)
Google Optimize
Google Surveys
Google DoubleClick
Very handy tool that's just few clicks away.
4. Just open Google Analytics with signed into Google Account
Funnily enough sometimes this turns out to be the last thing we do.
Just log into your Google Account and open analytics.google.com
As you hit enter with that URL, you will be able to see the Google Analytics dashboard.
So, there you go 4 super easy way to check if a website is connected to Google Analytics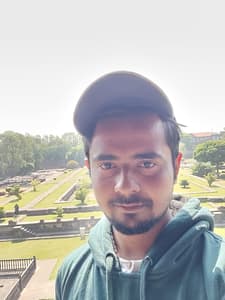 Kunjal Chawhan founder of Decode Digital Market, a Digital Marketer by profession, and a Digital Marketing Niche Blogger by passion, here to share my knowledge