From 145 to 6,900 Clicks in 12 Months - Canada Immigration Services SEO Case Study
About the project
This business is into Canada Immigration, helping people immigrate to Canada from different countries with Immigration programs like LMIA, AIPP, Express Entry & more.
You can think of this SEO project as National SEO Project or even Internal SEO Project because people from different countries would be looking to immigrate to Canada.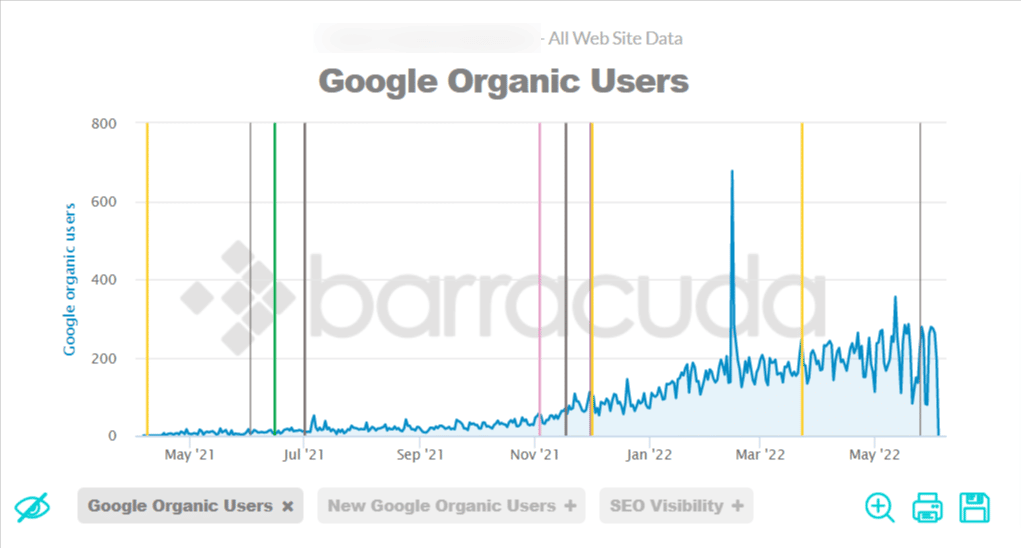 All the vertical lines represent algorithm update event, and as you can see this project has sailed through swiftly across all the major Google Algorithm update events. If anything, these updates has only increased the organic traffic.
State of Organics before it was picked up
Before the website was picked up for SEO, it was generating around 150-160 clicks per month wherein >90% of the organic clicks were branded keywords.
This is how the graph looked for that period.

What was their challenge?
Traffic & qualified leads were their biggest challenge. They were generating minimal organic traffic and hence leads were less.
Step by Step Solution & Implementations
Step 1: Audit & Understanding Business Model
A solid in-depth website audit to identify the SEO issues. This was to see what On Page SEO, Content SEO & Technical SEO issues they were having to leverage the quick wins and get the initial set of results.
In the first step, I also delved deeper into understanding their business model to understand the scope of SEO for the business.
As a result of the audit, I made technical SEO fixes to make the website speed faster. Fixing basic website speed issues like caching, JS bloat, render blocking resources. The website was lacking CDN, I setup Cloudflare CDN to make major improvements there.
Step 2: Making Design & Content Changes on Landing Pages
The audit also highlighted the issue with website design and content. They were using lots of stock photos which doesn't resemble trust to the users. 
Their team's original photos were added to the website, homepage, and everywhere to ignite that trust.
Trust signals like the Google Business Profile widget and some badges were added as a trust-building exercise.
On all the services landing pages content was improved with the help of Surfer SEO, FAQs with FAQ Schema were added to improve their organic visibility and we succeeded there.
This is how FAQs + FAQ Schema has performed for us, not bad right? if anything it only adds the value. And we shouldn't forget all the website CTR it must have indirectly contributed.
Step 3: Keyword Research to understand the search demand
Now one thing to understand here is that this isn't a huge website for which one can do extensive keyword research and make an action plan to build a lot of content pages, hub pages, cluster pages, etc.
This is a service-based business that didn't have room for a lot of landing page creation.
But the keyword research highlighted the core keywords that I should definitely own from the standpoint of search intents like Commercial Intent & Informational Intent.
Step 4: Content Strategy
The success of this project majorly goes to content-led SEO process. 
When I say content-led SEO approach I don't mean that I did 200-500 blog post. 
You would find this hard to believe but to be totally honest on this website only 9 blogs are published. But these 9 blogs are optimized to their fullest extent which is why they generate insane amount of organic traffic.
In fact, I created a separate Google Search Console property to measure the impact of blogs on this project.
This is how the impact looks like.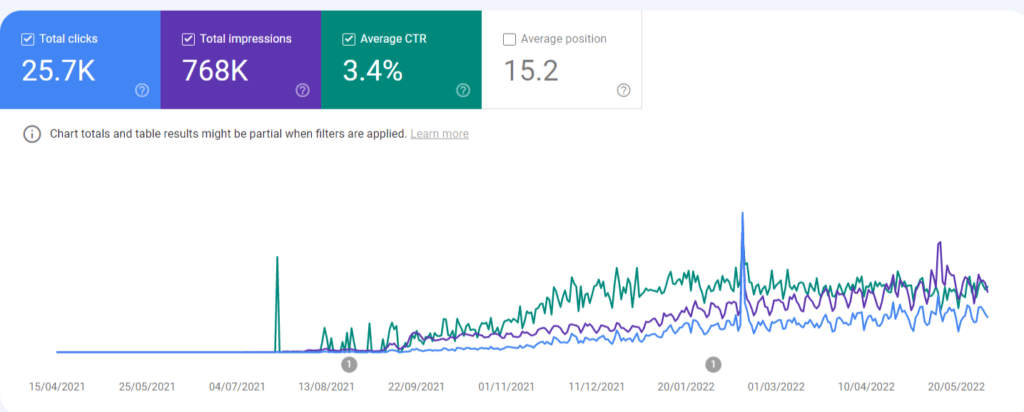 Blogs alone have contributed 25.7K organic clicks.
As per Ahrefs, blogs are delivering the organic traffic value of $1,836
Step 4: Link Building
I don't want to join the bandwagon of no link-building brag SEO Case Study. But, honestly, Links hasn't contributed much to this project.
The only links I built are Citation Backlinks for Local SEO.
Apart from that we did attract backlinks naturally with content assets that were built as blog post.
The two sites were we earned links naturally are
https://www.zippia.com/  Monthly Organic Traffic – 3.2M
https://internationalvanlines.com/ Monthly Organic Traffic – 12.3K
Content-led process helped me earn these high quality backlinks naturally, free of cost.
How does the results look?
Growth of Organic Keyword Cluster
Notice how top 10 keywords are only growing
Last 6 Months Vs Previous 6 Organic Growth
In the last 6 months vs the previous period, there is an organic traffic improvement of 568.20% 
Went from 3,988 organic visitors to 26,648 organic visitors.
What about Organic Lead Generation?
This website doesn't just talk about the crude organic traffic numbers. Leads are important for any service-based business. All the SEO efforts did help deliver qualified leads to the business.
Organic Clicks on SERP from Different Countries in Last 12 Months
With it being a Canada Immigration Project you can see how we generated organic clicks from SERP from so many different countries and keywords had demand from all these different countries.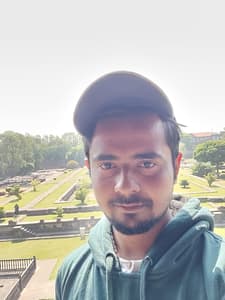 Kunjal Chawhan founder of Decode Digital Market, a Digital Marketer by profession, and a Digital Marketing Niche Blogger by passion, here to share my knowledge