Keyword Research for large e-commerce websites is a continuous process. It's not a one-time activity.
Since it's a large site, the amount of effort you would need to put into the keyword research will be massive; if you are planning to do it in a standard way.
The technique I am about to share with you helps you find in bulk all the keyword opportunities your current website isn't tapping. Right then you get the confirmation about what categories you can create confidently knowing that they won't cannibalise.
Your Favourite Keyword Research Tool like Semrush


Search Analytics for Sheets or Google Data Studio connected to GSC
Step 1: Carry out Bulk Keyword Research
In this step, carry out bulk keyword research from your tool. Don't even think about clustering it. Go by the long shot. If it's a furniture website selling all sorts of furniture then perform holistic keyword research & store them in sheets.
Some broad buckets can be.
Furniture

Sofa set

Patio Furniture

outdooor/indoor furniture
Remember, you're just collecting keywords & storing them in one sheet with the following metrics. 
Monthly search volume

Keyword Difficulty

Search Intent
I prefer Semrush for this job because while performing the research you can even set the filer of transactional & commercial intent keywords to get the keywords that can give you a hint to create categories.
Step 2: From GSC Pull the keywords with metrics
Using Google Data Studio create a table dashboard that helps you extract the following
Keywords

Ranking URL

Search impressions

Clicks

Average Position
Pull the data for the last 30 days, with a country filter specifying your target country.
Step 3: VLOOKUP, Verify & Make the Decision
Now you have your Semrush bulk keyword research in one table of Google sheet. And Google Data Studio extraction in the next tab. In GDS Extract, keep only category URLs & delete everything else.
Now using VLOOKUP, on the Keyword Research tab import the following values
Clicks

Average Position

Ranking URLs
For a certain number of keywords for your keyword research, the pulled metrics would come as #N/A (this is good news)
This means that for those keywords no URL had received any search impressions, clicks & hence no average position & ranking URL.
If those keywords are relevant for a category page then confidently go ahead with it. (There is no way you would be cannibalizing)
In the next bucket, remove all those queries for which you see an average position under 20 with clicks. For these, you most probably have a relevant target page. 
For the remaining bucket, 20 to NaN these are again the keywords which are not having a relevant target page.
This is your second opportunity bucket to tap.
But be careful while narrowing down on the decision. After you collect keywords in this bucket i.e. ranking from 21-NaN via position tracker or organic research extract their current rankings. If any are detected with relevant target pages then weed them out.
Now finally what you're left with is what you can confidently proceed with.
There are 2 buckets you finally have.
#N/A bucket

21-NaN bucket 
This is a bulk method to find keywords for category pages. Here the step of validating if there is a page is also incorporated which is what makes this process so fast.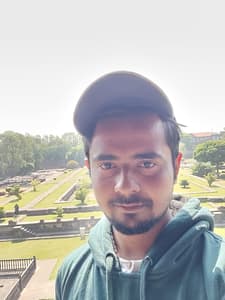 Kunjal Chawhan founder of Decode Digital Market, a Digital Marketer by profession, and a Digital Marketing Niche Blogger by passion, here to share my knowledge