Guest Blogging has long remained a practice in Off-Page SEO that has driven outstanding results. 
The fact that you stand a chance to get a dofollow link on an anchor text of your choice over a website of your niche is exactly what makes guest blogging so much desirable.
Guest Blogging is not only beneficial for bloggers who want to rank their blog posts on Google, but it's also moreover important for business websites. 
Business websites resorting to guest blogging opportunities see much better results, far sooner than the business websites that do not.



Most business websites will only present services, products, and general information, they will not agree to put out blog content which makes the job difficult for the SEOs to rank their client's business website. 
Thanks to Guest Blogging, it makes it easier to rank the client's website for its target keyword by promoting and optimizing the anchor texts.
There are repercussions when Guest Blogging is used in the wrong way, a means to an end just do as to manipulate the search engines. 
With search engines, of course, we mean Google Search Engine because it has a 96% market share. 
Search engines are becoming smarter day by day at uncovering the deceptive practices that SEOs commit to getting the undeserving rankings.
In this guide, you will learn the deadly Guest Blogging mistakes you have been making and why you shouldn't refrain from it.
Recommended: What are the traits of a website with a Bad Backlink Profile?
Always remember this mantra while doing guest blogging outreach, if it's easy; then it's fishy
You will thank me later.
Often during the outreach process, you will come across websites with good domain authority and you will be already bought to contribute content to that site. 
The driving force being the domain authority the site has. It is implied that if you guest post to a site with more domain authority than you own then that increases the domain authority of your own website which is true.
But, there are deceptive ways of increasing domain authority which has little to no impact on the main goals of SEO which is higher search rankings and high website traffic.
If a website has higher domain authority, less content, poor/ repetitive UX and almost ZERO traffic then that is definitely a PBN (Private Blog Network) sites. 
The reason why these sites accumulate such high domain authority is that they purchase a bunch of expired domains whose domain authority is already high then they take dofollow links from all these sites to increase their own domain authority.
Google explicitly penalizes sites resorting to PBN, it's a sure-fire way for your website to get penalized. Better stay away from this.
The #1 way to increase the ranking for a certain keyword is by acquiring dofollow link over that specific anchor text, but suppose you have built 500 dofollow links over that exact anchor text then this does strike as fishy to Google and they would probably add spam to your link building activity.
Remember; I am not suggesting you to not utilize the anchor text opportunity; go for it but with subtlety.
The right way to do that is by having a 15% anchor text of exact match and the remaining 85% of anchor text modifications.
Say, for example, you want to promote the anchor text "Digital Marketing Courses" then the suitable modifications for the same would be web marketing courses, internet marketing courses, online marketing courses, social media marketing courses so on and so forth.
Google hates paid links it's not a secret anymore (source)
If the publishers are explicitly stating it out on their guest posting guidelines page that they will be charging you for guest posts then it's likely that Google can identify your paid links on their website as a paid link and may choose to not pass PageRank as you hoped they would.
Which really defeats the whole purpose, come to think of it. The website on the other end who wants to make some bucks out of it has very little to lose, the only one going into jeopardy is you.
Full disclosure: A lot of sites where you would love to guest blog, sites with high Domain Authority/ Domains Rating and high traffic; they may probably not welcome you with open arms.
Nearly 80% of such sites demand money and to be honest, Google cannot find out if the link is paid if it is done correctly.
The publisher's site should explicitly lay it out on the site that they accept paid guest posts only.
It's okay if they take this conversation in the inbox; otherwise, all goes to waste.
I mean think about this, you wrote a nice piece of content that supplements the anchor text you are trying to promote and now you are also paying for that to be published and as a result, you are not even getting a PageRank and rise in positions.
Guest Blogging just for the sake of links leads up to decisions like this that only wastes time, money and effort. If you have a technology blog then it does not make sense to guest blog on niches like Lifestyle, Fashion, Digital Marketing and millions more.
Sure, you will get more referring domains; perhaps more domain authority but remember why you guest blog in the first place.
Guest Blogging is a very collaborative practice where we get the opportunity to network with bloggers in our niche, build relations, gain exposure among their audience, introducing yourself with the help of author bio and getting contextual links from niche sites that helps you with ranking and authority.
To put it simply, let me ask you a question.
Would you trust a Neurosurgeon whose expertise is being referred and encouraged by Auto Mechanics or would rather find it convincing if he is being referred by the board of neurosurgeon, the doctor community?
I bet you picked option 2. Now, that's how Google thinks which influences your authority in your niche and decides the rank you deserve.
Recommended: How to Make Web 2.0 Backlinks That Will Help You Rank Higher
Guest Blogging is a space that works best on the principle of give and take. It should not be just take! take! take.
If you are expecting better results then you are gonna have to give your best to manifest your goals. Often times just for the sake of securing a link guest bloggers submit redundant content to publisher's site, some go a step ahead and submits spun content.
Sure, if you submit a guest post then the publisher is gonna have to write 1 less blog his efforts are being saved by you, but he is not an idiot that he cannot identify a redundant content; content that was beneficial to his audience decades ago; he can see through the lies that you have submitted content just for the sake of securing a link. 
The result, you will get a heartbreaking email with the subject line, Your Guest Post is rejected!
Besides, even in the likely event if the guest blog gets accepted, the only ROI of guest blogging isn't just getting dofollow links.
There is more to this. Other factors like topical relevance to anchor text link promoted, targeted referral traffic from the guest post these factors are also important.
You need to write a guest blog of the kind that would rank high on Google, that is when the referral traffic will fall through; your relations with publishers will foster.
We are moving towards 2020, Google has already dropped the highest number of algorithm updates this year than the preceding years combined.
One such update is Google's E-A-T
E-A-T stands for Expertise, Authoritativeness, and Trustworthiness.
You need to make it a point in your guest blogging campaigns to secure an author bio spot whichever place you contribute a guest post, because how else can establish your authority if you do not showcase your author bio and social media links?
If the publishing sites aren't allowing you an author bio section then negotiate them, convince them for the same; or else you are missing out on a lot. It's like them stealing your content; claiming it as their own and you are providing them the same in a platter.
The very idea seems idiotic.
Concluding
Always keep in mind the objective you have in mind for guest blogging; like what is it? Networking, promoting anchor text, establishing your authoritativeness? Keep your objective in mind.
Let the publisher benefit from the content that you provide and seek what you will. Check if your guest blogs are indexed by Google or not; if they are not; then share the content on social request the publisher to inspect the guest post URL so that it gets indexed.
You will find SEO value out of it only once it gets indexed in search engines.
Related Articles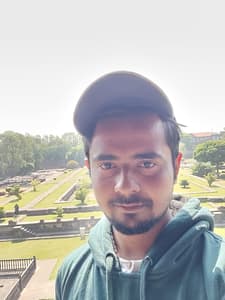 Kunjal Chawhan founder of Decode Digital Market, a Digital Marketer by profession, and a Digital Marketing Niche Blogger by passion, here to share my knowledge