Charting out internal linking plan for your website isn't as simple as pluging in in-between posts read also etc.
There is a depth to internal linking in terms of results it can drive for you if you do it strategically.
To be strategic what you need is data.
Legends like Nick Jordan say that Internal Backlinks does what we think external backlinks do. Read that again!
In fact, when I was doing Kyle Roof's On Page SEO Course he said that 1 internal backlink is equivalent to 2 external backlinks that you build.
And if you are link builder like me you know how often it happens that we take efforts to build backlinks, even pay for it and it doesn't even move the needle.
I can go on and on about how important internal backlinks are but you are not here for that you are here to learn how Google Search Console can help improve your internal link building.
And here is a bonus, I will share Google Search Operator trick to expedite the process.
You would also like to read → How to Use Google Search Console Regex
Step by Step Process to Leverage Google Search Console to find Internal Link Building Opportunities
#Step 1 – Find Pages Missing Internal Links Using Links Report
Google Search Console is a powerful SEO Tool that will offer you loads of insights. Using this tool you can audit your internal backlinks and find pages that are straight away missing the internal backlinks.
Using this tactic you will at least know the pages on your website that aren't powered up with internal backlinks.
If you get a list here then you can help them using what I am going to teach in the next step. As in my case, I wasn't able to detect any page that was missing an internal backlink.
#Step 2 – Scan the page on the performance report and see its ranking keywords to find opportunities
Here is the neat trick once you scan a page on a performance report it shows you all the keywords that the page ranks for. Here you will observe that the ranking will be highest for closely relevant keywords and the ranking will be lower for distant topics but those topics make your page complete.
What you want to do here is to identify those ranking keywords and see if those keywords are present on other blog posts from where you can link to this page.
Let me show you
In the above example, you are seeing the ranking keywords for the "Deadly SEO Mistakes" article that I had published long ago and these are its ranking keywords.
One of the keywords that I have highlighted is "mobile SEO mistakes" it most certainly isn't the focus keyword of the article but this topic complements the overall article even semantically so.
This article can rank for this keyword if it is internally linked well.
Now your next step is to find pages that mention this keyword in the content from where you can link to this article.
In the next step, I will teach you how to use Google Search Operators to speed up the process.
#Step 3 – Use Google Search Operators to find pages from where you can link the keywords
To check if either of my blog posts mentions "mobile SEO mistakes" keyphrase I used a Google Search Operator i.e. site:yourdomain.com "exact keyword you want to find" and hit enter and thus it will show you all the pages that mention the keyword.
In my case, none of the pages mentions the keyword, and hence you can see the message above "No results found" if I had mentioned it in a couple of posts then this would be an easy hack to find such posts in no time.
You can repeat the same process to find more untapped keywords that are present across the site and link them internally to pass the PageRank.
The traditional approach of internal link building is pretty basic, all you do is find pages with exact match focus keywords i.e., for example, you published an article on let's say "How to lose weight" so you will find all pages that mentions how to lose weight & lose weight to build internal links.
Moreover you will plug that article as read also: how to lose weight in every other article.
This is not to say that the approach is wrong but what I mean to say is that the approach is quite limited in nature, there are tons of semantic keywords present across the site that you can leverage using Google search console and link them internally.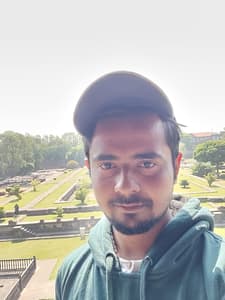 Kunjal Chawhan founder of Decode Digital Market, a Digital Marketer by profession, and a Digital Marketing Niche Blogger by passion, here to share my knowledge