One of the greatest SEO growth potential killers is KEYWORD CANNIBALIZATION
Keyword Cannibalization occurs when 2 or more pages are focusing exact search query and that confuses the heck out of Google for which URL it should rank from your site, should it be page A, B or C and as a result the organic traffic would be less than what it could have been if only 1 page were targeting that query.
I'm not making this up, I have data to prove this.
Below is the screenshot of when 2 pages where focusing on same search query, 1 was blog post and another was a tag page (this is why I hate WordPress tag pages and don't use them)
Note that this is for the month when 2 pages were targeting same topics, the above screenshot shows data using regex on pages i.e I am showing total clicks, total impressions, avg CTR & avg position using "and" regex on pages that shows data on both blog post and tag page of that blog post.
In the below screenshot you will see data on just the blog post for a month, this is after I had noindexed the tag page.
You can see here how one vs two URLs focusing same content clearly shows that 1 URL far outweighs 2 URLs.
The number of clicks have more than doubled & CTR has also improved significantly.
Now there ways to identify keyword cannibalization issues.
A. You can check individual keyword on Google Search Console to check what all URLs are ranking for it, this is very tedious and time consuming.
B. You can use paid tools like SEMrush or Ahrefs to identify this issue but if you have a bigger site like let's say a 5000 products e-commerce website then to identify keyword cannibalization you will have to use their most expensive plan where you can populate maximum keywords in rank tracking to detect the issue.
But, if you are looking to detect keyword cannibalization for free then read on because I am revealing that very trick which I am using to detect these issues at scale and it doesn't cost me a dime.
Step by Step Guide to Identify Keyword Cannibalization at scale for Free without using paid tools
Step 1: Connect Google Spreadsheet with Search Analytics for Sheets Ad-on
Open Google Spreadsheet and go to Add-ons in the header menu and click on get add-ons upon doing so the above pop up with open in this you have search for the add with its name which is "Search Analytics for Sheets" and add that ad-on it's free.
Step 2: Open Search Analytics for Sheets in Sidebar and connect that to your Google Search Console Property
In the sidebar you have to select the verified GSC property for which you want to see the insights, select the date range, in search type select web and in group by add query and page attributes lastly hit request data that comes in the bottom.
Doing so the data will be populated in the sheet, can take some time depending on the size of data.
But here is how it will look.
Step 3: Export into Excel and summarize the table into Pivot Table
While summarizing the table into a Pivot table you will have to pick query first, then page and then CTR followed by average position.
That way, below the query ranking pages i.e. URLs will be listed and hence you will know how many pages are targeting the same query.
Let me show you
After setting the configuration of Pivot Table like Query → Pages → Avg Position this is data representation that I got.
Now I can clearly see what all pages are ranking for the given keywords.
Like you observe the highlighted section where you can see that for "best guest posting sites" exact search query there are two landing pages that are ranking and you can also see their probable avg positions.
My blog doesn't have huge keyword cannibalization issues even the one you are seeing up there the guest posting sites page has the best ranking and the other pages are far off.
Keyword Cannibalization is painful when for a given search term the other pages are ranking very close to each other and fluctuating very often.
For example, you can observe on your client site that has tons of tag pages that are battling with both blog posts and category landing pages at times like that this analysis becomes extremely important.
Lastly, I understand that this pivot table representation doesn't look as fancy as how the representation appears in paid tools like SEMrush, Ahrefs and others but hey, this is free! for free I find this good enough, plus it saves a ton of time.
Liked what you read?
Then you would love reading this post on how Google Search Console can help you improve your internal linking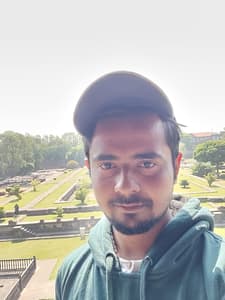 Kunjal Chawhan founder of Decode Digital Market, a Digital Marketer by profession, and a Digital Marketing Niche Blogger by passion, here to share my knowledge