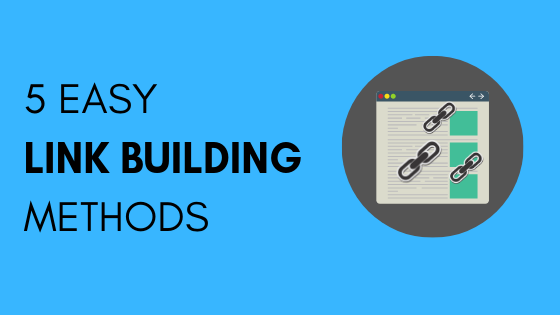 Do you wanna rank higher in the World's Favorite Search Engine—Google?
Well, who doesn't? Like it or not but it takes more than just awesome content, Technical SEO & On-Page SEO to rank well; these things are undoubtedly important but Do you know what's more important? 
It's LINK-BUILDING 🔗
Google just loves the websites that have links pointing to it from various domains. Link Building is a credibility factor that Google takes into the account.
Think of it like votes. Your website getting links from various websites indicates Google that all these websites that are linking to it are actually approving of this website and so there must be something in it.
When you launch your new website from scratch, the potential competition your website faces is somewhat equal to a competition that a wave created by your hand in ocean faces against the tides that head your way.
Your survival chances are next to nothing, and it will stay that way unless you take advantage of the available link building methods that are easy to execute. These easy methods will help your gain the traction in the SERPs & possibly increase your Domain Authority.
5 Easy Link Building Methods That Works Like a Charm
Directory Submissions is that facet of Off-Page SEO that has been tainted. Before diving into that let's understand What Directory Submission mean anyway?
There are web directories available on the internet for users to access so that can retrieve information that wants access to. The web directories systematically organizes information in a rich manner so that the user can access every bit of information he was looking for.
A web directory contains information like
 Business Name
 Location
 Map
 Contact details
 Products/ Services Showcase
 Business Images
 Business Reviews
You get the idea, it basically represents rich information about your business in a well-structured way. 
Directory Submission Sites are SEO Optimized, hence when people search for your business or your service these directory submission sites are displayed in the search results.
The Best Part? There are Directory Submission Sites that will grant you with a Do-Follow link, and these directory submission sites have significant Domain Authority. Things get interesting when you register for a Niche-Specific or Location Specific Directory Submission Site & get a Do-Follow Link in exchange. 
Links from Niche-Specific or Location Specific sites pass Good SEO Value. For example, there can be directory submission sites catering to particular locale, specific niche & the likes.

Take www.univariety.com for example, it's a education niche-focused directory submission site. There are 100s of 000's of Directory Submission sites out there, but all won't leave the intended impact, back in the day that was a thing, circumstances have changed now. There still remains a few directory submission sites that pass SEO Value, Increase your Domain Authority & Drive Referral Traffic to your Website.
Here are our Top 5 Picks
Google My Business

Bing Places

Just Dial

Hot Frog

Yelp
Social Bookmarking remains an instant way to obtain dofollow / nofollow backlinks. Social Bookmarking sites are basically websites where you can essentially Bookmark your website link, the level of activity on Social Bookmarking Sites is insane hence it takes no longer for your bookmarked link to get indexed by Google. 
In fact, if you want your newly published blog posts to get indexed faster then try adding the link to these Social Bookmarking Sites, the results will amaze you.
Again there are 100s of 000s of Social Bookmarking websites out there, but a selected few leaves the impact you intend to have.

Here are our Top 6 Picks for Social Bookmarking sites

Mix.com

Diigo.com

Pinterest.com

Reddit.com

Slashdot.org

Bizsugar
Web 2.0 is the most powerful link building strategy that you should have in place. The Best Part about this link building strategy is that YOU have complete control over this, you don't have to request a proposal or anything.

There are a decent amount of Web 2.0 sites out there you just have to register over these sites & you can create a mini version of your website that supports the short-term or long-term SEO strategy of your website.

Here are our Top 8 Picks for Web 2.0 Sites
Blogger.com

WordPress.com

Weebly.com

Strikingly

Web Garden

Medium.com

Wix.com

Tumblr.com
Web 2.0 plays a great role in giving rise to a tiered link building strategy. You can build end number of tier sites that will reciprocally link to each other thereby increasing domain authority of each other & all these mini tier sites will be connected to your main website which will simultaneously increase the domain authority of the main website.
Web 2.0 Tiered Link Building works wonders when used legitimately with caution.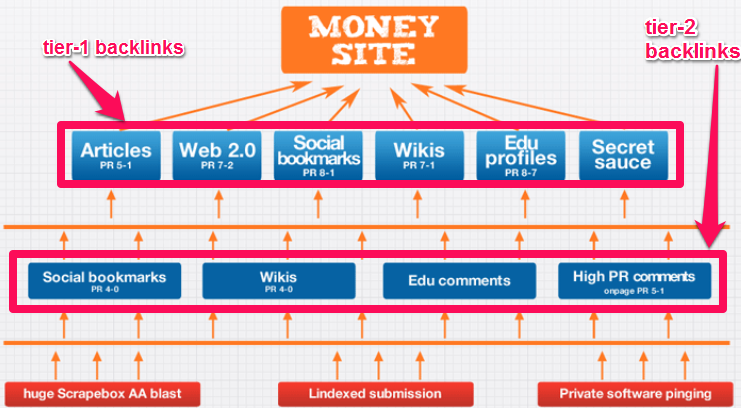 Tiered Link Building Illustration by NeilPatel.com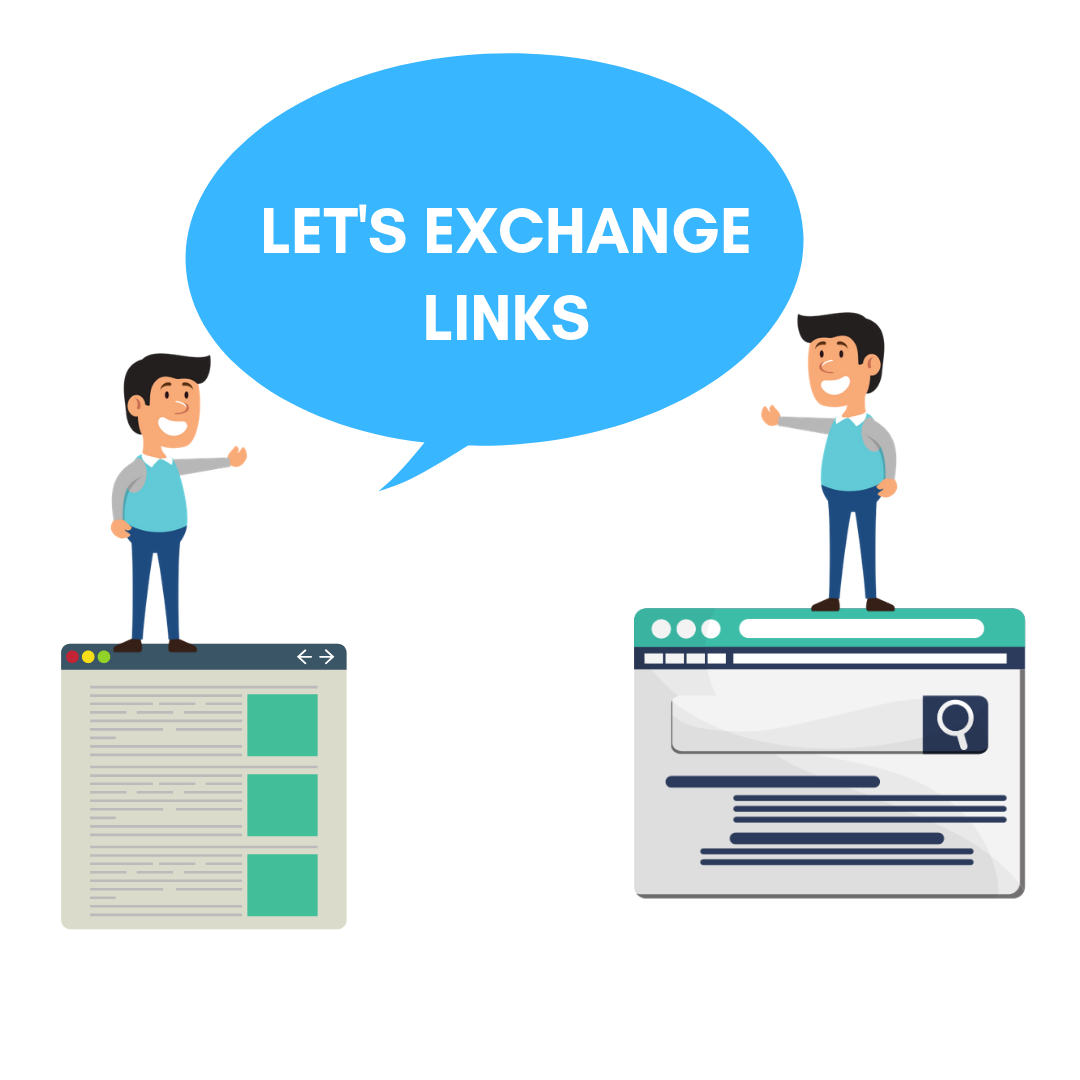 The SEO space in the complete Digital Marketing space represents a quintessential democracy where people believe in growing together.

When you're new in this game you need all the help you can get, seek help from website whose Domain Authority lies somewhere around you preferably higher. Let's say your new website Domain Authority is 5, so you will seek out to website having Domain Authority 7-9 or above.

Link Exchange is the way to go. With Link Exchange, you explore reciprocal Dofollow Link Exchange Opportunity between blog posts.

For example, you have a Blog post about a detailed guide on Social Media Marketing, & on a targeted website there's a blog about Social Media Marketing Strategy, this presents you with the opportunity to exchange dofollow links. You can request link insertion for anchor text "Social Media Marketing in 2019" & the targeted website can request link insertion for anchor text "Social Media Marketing Strategy"
Link Exchange is supposed to be two-way traffic, it's a WIN-WIN situation for both the parties involved. 
Both parties involved get a dofollow backlink from a new domain which will increase there Domain Authority, additionally, they are getting dofollow backlink on an anchor text of their choice, the keyphrase for which their looking to rank in SERPs.
Recommended: Link-Building Outreach: 6 Email Templates to Build Solid Backlinks
Guest Posting is an exhaustive process of link building but it hasn't lost its charm even after all these years. Why I find it exhaustive? Because you have curate content from scratch that you're not even gonna own & at times you may even have to pay for it. (I know, that part SUCKS the most!)
It's an evergreen Link Building Method. Essentially what Guest Posting means is that you will write a piece of content that supports the existing content on your site (You will find an outbound link opportunity on that Guest Post piece, that outbound link would be to the existing content from your website) and then you will search for website in your niche having decent enough Domain Authority; you will pitch your Guest Post to be published on that Guest Posting website.
The targeted website gets valuable content for free whereas you get to build links sometimes free sometimes it's paid (depends on the domain authority of the targeted website).
So, there you have it 5 Easy Link Building Methods that will give your website the initial boost it needs to gain momentum in the Google SERPs. Let me know in the comment section what's your favorite Link Building Method & Why? If you learned something new then don't forget to share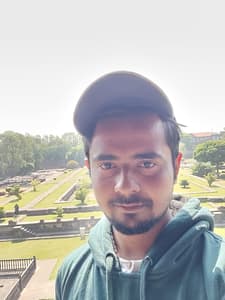 Kunjal Chawhan founder of Decode Digital Market, a Digital Marketer by profession, and a Digital Marketing Niche Blogger by passion, here to share my knowledge